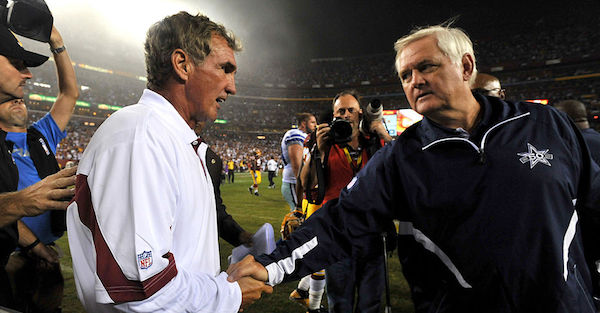 Larry French/Getty Images
LANDOVER - SEPTEMBER 12: Head coach Mike Shanahan of the Washington Redskins shakes hands with head coach Wade Phillips of the Dallas Cowboys after the NFL season opener against the Dallas Cowboys at FedExField on September 12, 2010 in Landover, Maryland. The Redskins defeated the Cowboys 13-7. (Photo by Larry French/Getty Images)
One of the craziest moments in NFL history took place in Nashville, TN. when the Tennessee Titans shocked the Buffalo Bills with a play that would go on to be coined as the "Music City Miracle" and haunt Bills' fans for years to come. It didn't have a strong, lingering impact on just the fans, though, as Wade Phillips, who was the coach of the team at the time, kicked out a NFL officiating crew during an offseason meeting to discuss future rule changes.
The officials made the mistake of not only showing film from from the Music City Miracle, but told Phillips and his staff that the officials' call on the infamous play was a good example of their work.
https://www.youtube.com/watch?v=FuHffewDHpk
Here is what Phillips said about about the incident in his new book "Son of Bum" via PFT:
"All of a sudden, one of the first plays to appear on the screen was the Music City Mistake," Phillips writes. "They didn't just show the play, but they also said it was an example of 'why we've got good officiating' in the NFL. I couldn't believe it. None of us could. . . ."
Phillips calling the play the "Music City Mistake" certainly stands out, but it's clear that he still doesn't believe the play should ended with no penalties for illegal laterals. The officials not expecting Phillips and the Bills' coaching staff to react negatively to this presentation, while also telling the team that were on the wrong end of the play why they're doing a good job comes across as oddly tone-deaf.
The coaching staff kicking out the officials after this comes as no surprise, especially with how little time had passed since the game.
Wade Phillips is currently the defensive coordinator for the Los Angeles Rams.