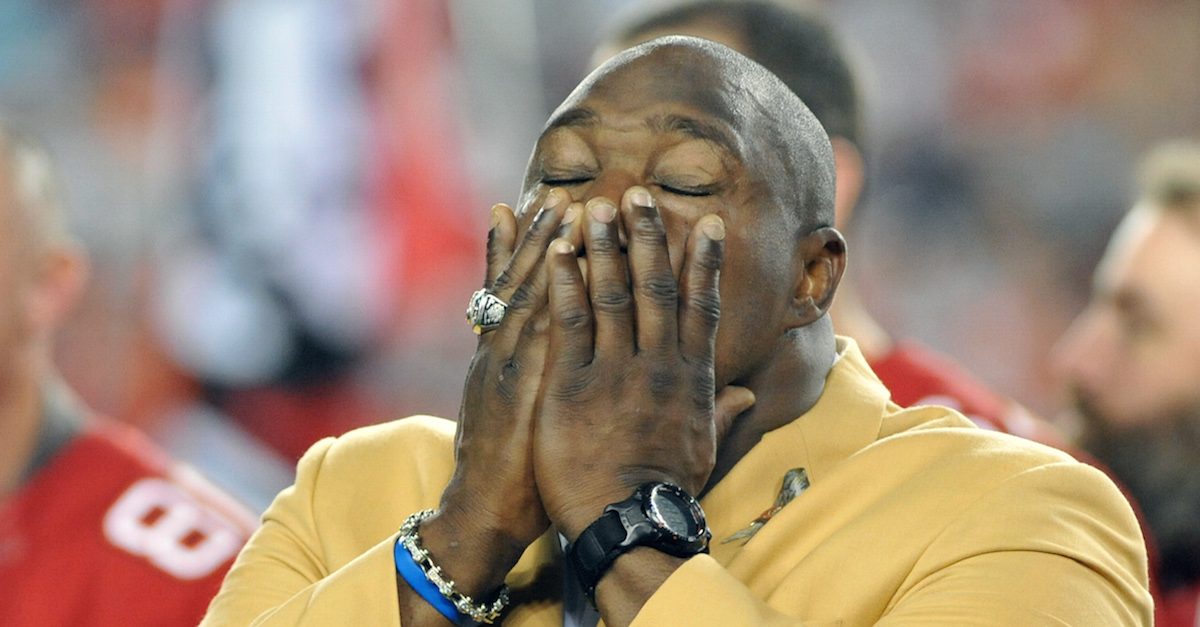 Al Messerschmidt/Getty Images
TAMPA, FL - NOVEMBER 11: NFL television commentator Warren Sapp receives his NFL Hall of Fame ring during halftime ceremonies as the Tampa Bay Buccaneers play against the Miami Dolphins November 11, 2013 at Raymond James Stadium in Tampa, Florida. Tampa won 22 - 19. (Photo by Al Messerschmidt/Getty Images)
Pro Football Hall of Famer Warren Sapp has been served with a lawsuit in his battery case stemming from an incident in which he allegedly "drunkenly bowled over" actress Paula Trickey at a Super Bowl party in January 2015, as shown in footage obtained by TMZ.
Tricker's attorneys had attempted to serve the former defensive lineman for more than a year, but claimed he was "actively avoiding the process server," according to the website's report.
Sapp was tracked down by a process server posing as a fan at an autograph session, who handed the former lineman complaint and summons to appear in court after posing for a picture.
Trickey accused the former football player of being drunk and "running through the crowd and slammed into her" after being kicked out of an ESPN Super Bowl party in Scottsdale, Arizona, according to her lawsuit, which was obtained by TMZ.
The actress claimed she suffered serious injuries following the incident including "significant and permanent loss of bodily functions" and is demanding more than $15,000 as part of her lawsuit.
"There are places in my body I didn?t know existed that are still hurting two years later," Trickey told the Miami Herald.
Sapp has denied the allegations since the incident took place more than two years ago, tweeting "On Jan. 30 2015 I was at the JBL/Harmon private event where I was scheduled to introduce Pitbull."
"It's impossible to be @ 2 places at 1 time," he added.
Sapp was also arrested for a physical altercation involving two prostitutes during the same weekend of the incident.