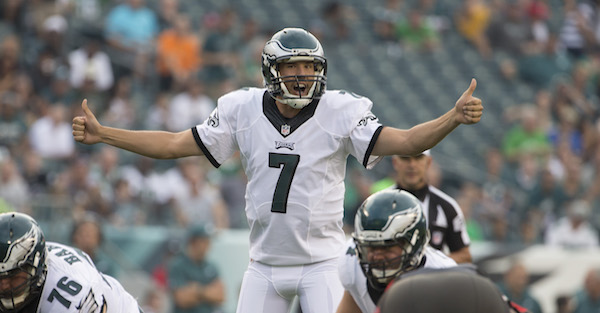 Mitchell Leff/Getty Images
PHILADELPHIA, PA - AUGUST 11: Sam Bradford #7 of the Philadelphia Eagles calls a play in the first quarter of a preseason game against the Tampa Bay Buccaneers at Lincoln Financial Field on August 11, 2016 in Philadelphia, Pennsylvania. (Photo by Mitchell Leff/Getty Images)
The consensus remains that the Minnesota Vikings overpaid dramatically for Sam Bradford, sending a first-round pick and a fourth-round pick (that could turn into a third-round pick if the Vikings make the playoffs or a second-rounder if the team wins the Super Bowl) to the Philadelphia Eagles.
And while it was generally assumed maybe that's just what the pricetag was to get Bradford, Philadelphia general manager Howie Roseman admitted he was tossing out a high number just to see what the response was. And it certainly wasn't what he expected, via MMQB.
"When we talked [earlier Thursday], I said to Rick, ?Rick, this is going to be a premium.? It had to include their first-round pick in 2017 [Philly had traded its 2017 in a package to be able to draft rookie quarterback Carson Wentz], plus something else. I didn?t think they?d consider that. We talked about it, but I wasn?t thinking it was very serious."
Is it possible Minnesota could have acquired Bradford without giving up its first-round pick? Who knows at this point. But the idea Roseman didn't think Minnesota would consider sending its first-rounder, and possibly could have been talked down is simply bad negotiating on Minnesota general manager Rick Spielman's part.
Spielman acknowledged the price tag for other quarterbacks around the league was a first-rounder and some of the team's core players, seemingly becoming resigned to adding the team's 2017 first-rounder.
Whether it pays off for the Vikings remains to be seen. It's arguably the best offensive unit Bradford has played with, and instantly puts Minnesota back into the conversation as a playoff contender.