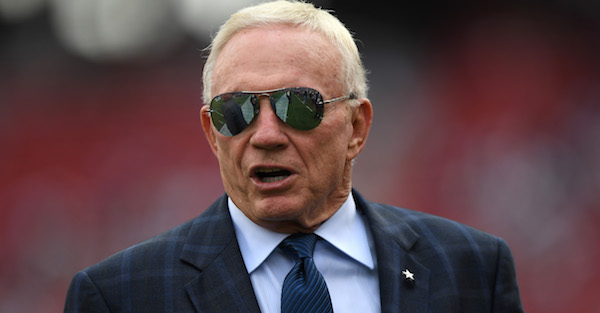 Thearon W. Henderson/Getty Images
SANTA CLARA, CA - OCTOBER 02: Dallas Cowboys owner Jerry Jones is seen on the field prior to the game against the San Francisco 49ers at Levi's Stadium on October 2, 2016 in Santa Clara, California. (Photo by Thearon W. Henderson/Getty Images)
What lies ahead for Tony Romo will be one of the NFL's most burning questions heading into the offseason.
And Dallas Cowboys owner Jerry Jones believes that however or wherever his saga unfolds, it will include him playing in a Super Bowl someday.
"I really believe that Tony Romo will play in a Super Bowl," Jones told 105.3 The Fan Tuesday via the Fort Worth Star-Telegram. "Now try that one on. I know that if he's healthy enough, he?ll be in a Super Bowl. I strongly believe that.?
Jones refused to delve into any detail about who the 14-year veteran might be leading there, when the whole world is expecting that Romo's time in Dallas will end with either a trade or his release this offseason.
Jones, however, did say there are several ways Romo's future can play out, but ultimately that decision lies with him.
?There?s several cards to be played,? he continued. ?Don?t think for one minute if you see something written or something said about what and where Romo is going to be relative to our team that there?s any credibility to it. There?s only one that can make that decision, and there?s been no decision made.?
RELATED: The Dallas Cowboys make a confusing statement about their 2017 QB situation, but there may be a reason
Jones is likely to continue skirting the issue until it either fades from the news cycle or until the exact moment a deal is done. Clearly, though, the writing's on the wall. Romo's $24.7 million cap number is the highest of any quarterback in the league for next season.