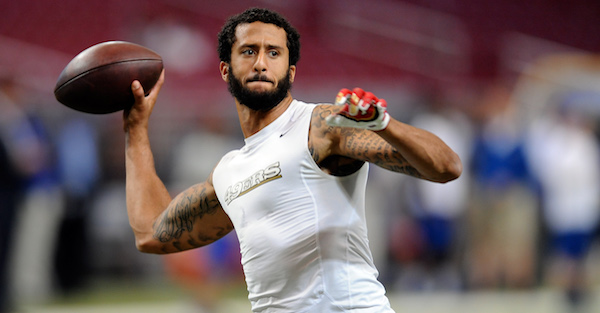 Michael B. Thomas/Getty Images
ST. LOUIS, MO - NOVEMBER 1: Colin Kaepernick #7 of the San Francisco 49ers warms up prior to a game against the St. Louis Rams at the Edward Jones Dome on November 1, 2015 in St. Louis, Missouri. (Photo by Michael B. Thomas/Getty Images)
You probably wondered whether any national anthem protesting would go down today on the NFL's opening Sunday and the 15th anniversary of the 9/11 attacks.
Related: After Colin Kaepernick-like speculation, Doug Baldwin and Seahawks announce pregame plans for Sunday
Well, we've got our first report of one. Kansas City Chiefs RB Marcus Peters, who's previously come out in support of Colin Kaepernick, raised a gloved fist during the playing of the national anthem just before the start of the Chiefs-Chargers game.
Peters weighed in on the Kaepernick controversy Friday, telling Fox 4 in Kansas City that he fully supports Kapernick's agenda.
"I'm 100 percent behind him. I feel that what was going on in law enforcement, it does need to change. It does need to change for all, equal opportunities for everybody, not just us as black Americans. I feel that over the past year it's been displayed what's been going on across America and over across the world. Just on my piece, I don't think nothing's being done about it. It's hard for us as we have influences on the world and all these fans around the world, once we come out like Colin did, it becomes a big huge thing like he's disrespecting the flag. He didn't say none of that. He spoke up about something that he felt he needed to speak up about. I salute him for that. I'm going to back him up."
He may not have remained seated or taken a knee during the anthem, but something tells us there'll be some backlash.