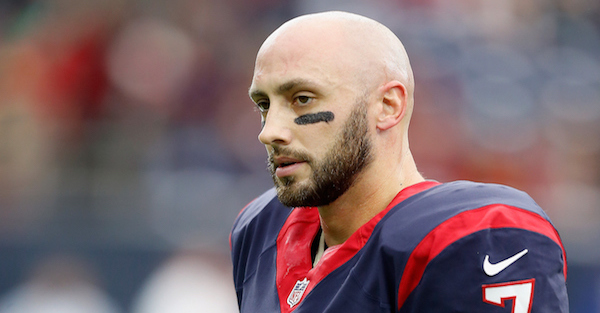 HOUSTON, TX - JANUARY 09: Quarterback Brian Hoyer #7 of the Houston Texans looks on before the AFC Wild Card Playoff game against the Kansas City Chiefs at NRG Stadium on January 9, 2016 in Houston, Texas. (Photo by Bob Levey/Getty Images)
Related: Is a Colin Kaepernick trade done?
---
The Houston Texans added to the limited quarterback free agent pool when they released Brian Hoyer on Sunday.
While it was naturally assumed this hurt the likes of Colin Kaepernick (attempting to get a trade out of San Francisco) and Ryan Fitzpatrick (trying to land his lone big-money deal), the opposite may be true. The Denver Broncos and New York Jets are still thin at the quarterback position, and it looks like things just got tougher for those teams to land their respective guy.
Before releasing Hoyer, the Texans were trying to trade him:
Now that Hoyer is on the market, he can choose where he lands. And that limits what the Denver Broncos or New York Jets can offer for his services. After a tough year in Houston, maybe Hoyer opts to sit in a reserve role for a true contender, like the Pittsburgh Steelers:
The Jets are understandably interested, and the Broncos should be too.
Both squads need help at the position, but they might have missed the opportunity to get more depth at the position when the focus remained on reportedly attempting to land Colin Kaepernick.