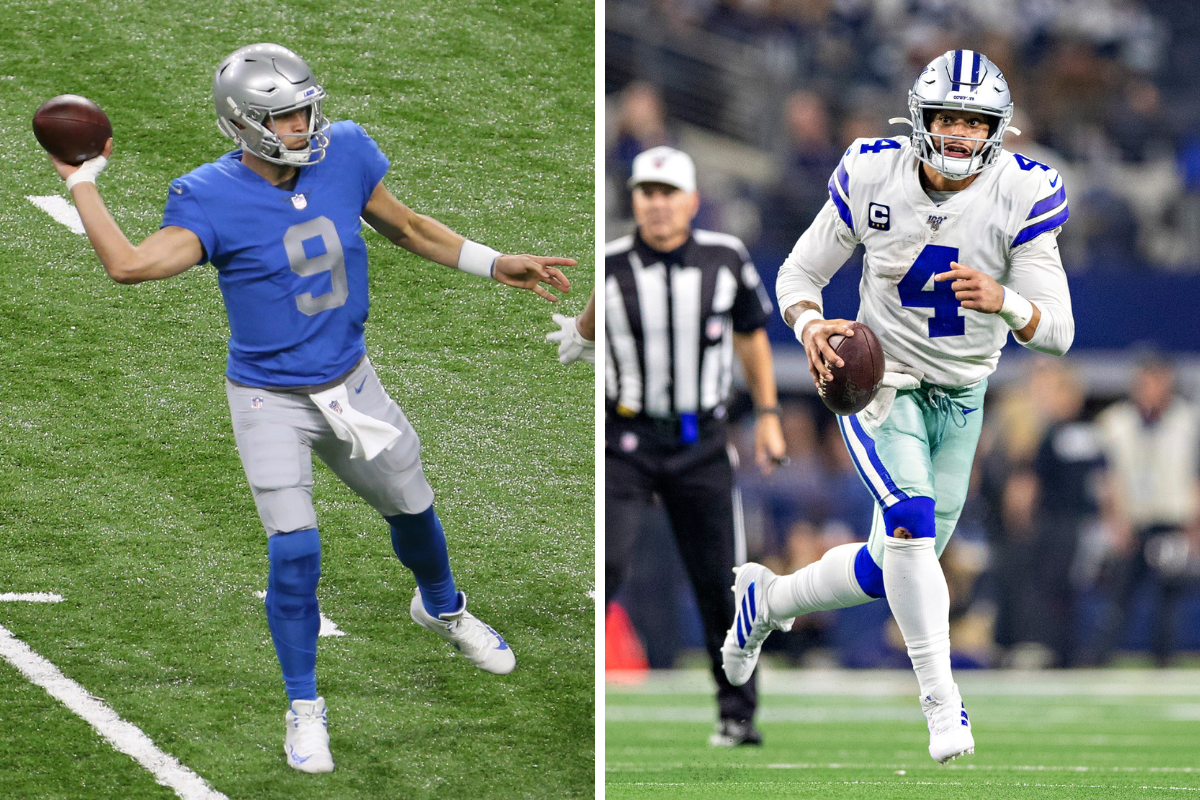 Photo by Amy Lemus/NurPhoto via Getty Images (left), Photo by Wesley Hitt/Getty Images (right)
Thanksgiving and NFL football go together like mashed potatoes and gravy.
Having the entire family over, stuffing your face and getting day drunk (don't worry, it's acceptable on a holiday) just wouldn't be the same without watching two teams toss the pigskin around.
Two teams are absolute staples of Thanksgiving football: the Dallas Cowboys and Detroit Lions. Ever year come turkey time, you can expect to see these two teams going at it on your TV. It's a timeless tradition, and it isn't slowing down any time soon regardless if these teams are playoff- or Super Bowl-bound.
But how did the Cowboys and Lions playing on Thanksgiving Day become a thing in the first place? Let's dig into why.
Why Do the Cowboys Play on Thanksgiving?
RELATED: The Cowboys "Bad Luck Blue" Jerseys: Inside the Alleged NFL Curse
If you never watched Tony Romo throw a game-ending interception while shoveling a spoonful of stuffing in your mouth, you didn't watch the Cowboys on Thanksgiving.
This Thanksgiving tradition began back on 1966. Cowboys General Manager Tex Schramm, who was seeking to grow the team's national popularity, hatched the idea first. More than 80,000 fans showed up to see the Cowboys beat the Cleveland Browns, 26-14, and thus a tradition was born.
Only two years the Cowboys have not played on November 25 — 1975 and 1977. According to ESPN, commissioner Pete Rozelle attempted to expand the St. Louis Cardinals' popularity by putting them in the national spotlight on the holiday. Needless to say, it didn't work.
Why Do the Lions Play on Thanksgiving?
Believe it or not, playing football on the holiday began with the Detroit Lions.
It was 1934, and the Lions took on the Chicago Bears. Before that matchup and earlier in the season, Lions owner George A. Richards had bought the Portsmouth Spartans football team and relocated them to Michigan, per ESPN.
To no one's surprise, the Bears — who had won titles in 1932 and 1933 — wound up on top in the football game. They won, 19-16, at the University of Detroit Stadium on November 29, which technically wasn't Thanksgiving Day.
The Lions have been doing this ever since, except from 1942-44 during World War II. For whatever reason, the Lions now play every year in the Thanksgiving football matchups.
According to Sporting News, other NFL teams had played on Thanksgiving before the 1934 matchup. The Lions owner was able to reach a deal with NBC to broadcast his NFL game on 94 different radio stations around the country, though, bringing widespread prime-time appeal to his team.
Lions fans have been happy to watch stars like Calvin Johnson and Barry Sanders every November ever since inside Ford Field.
Other Teams That Play on Thanksgiving
In addition to the Lions and Cowboys, many other teams have went head to head on Thanksgiving.
Two notable teams include the Green Bay Packers and Chicago Bears.
The Lions are 37-42-2 in Thanksgiving Day games, while other teams like the Cowboys (31-21-1), Packers (14-14-2) and Bears (19-15-2) have performed better over the years.
Only one team, the Jacksonville Jaguars, have never played on Thanksgiving. Meanwhile, the Los Angeles Rams haven't played on the holiday since 1975.
NFL Thanksgiving 2021 Schedule
The NFL's Thanksgiving Day kickoff begins at 12:30 ET. Sure, we won't be getting Aaron Rodgers and the Packers destroying the Minnesota Vikings or teams like the New England Patriots, Pittsburgh Steelers, Baltimore Ravens, Kansas City Chiefs, Miami Dolphins, Philadelphia Eagles, Houston Texans, New York Giants, Carolina Panthers, Tennessee Titans or Washington Football Team playing this year.
But this year's Turkey Day schedule is pretty darn good. Of course, the headliner will always be the Thanksgiving game inside Texas' AT&T Stadium.
Chicago Bears at Detroit Lions, 12:30 ET, FOX
Las Vegas Raiders at Dallas Cowboys, 4:30 ET, CBS
Buffalo Bills at New Orleans Saints, 8:20 ET, NBC
Related Videos