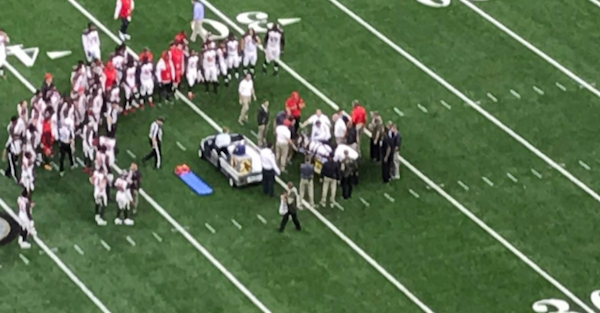 @TomPelissero/Twitter
The 2017 season was supposed to be one for the ages for the Tampa Bay Buccaneers.
Jameis Winston was supposed to take the next step forward in his progression as a quarterback and as a leader. Doug Martin was supposed to balance things out with a strong running game. And the defense was supposed to progress to a level that allowed Winston to get more opportunities to light up the scoreboard.
Few things have gone right for the Bucs, though, and Tampa Bay suffered another blow on Sunday.
One of the areas the Bucs have struggled in has been getting a pass rush going, and Tampa Bay defensive end William Gholston left the Bucs' 30-10 loss to New Orleans early with a neck injury.
Obviously, moments like this have a harsh way of reminding us just how dangerous this game is and how quickly things can go wrong.
There is a big difference between being hurt and being injured. Guys play hurt all of the time, but it cuts deep when someone gets seriously injured.
Hopefully, Gholston will be alright. It seems like it will be:
But, on top of that, the Bucs also lost Winston and offensive tackle Donovan Smith to injury in the game. The landslide for Tampa Bay continues.
[h/t Pewter Report, Bleacher Report]