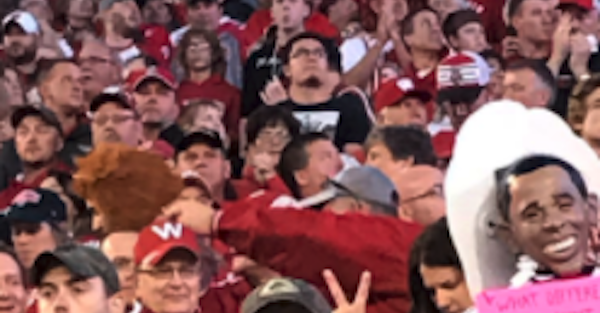 @woahohkatie/Twitter
One Wisconsin fan took Saturday's contest against Nebraska as a time to be incredibly disrespectful with an insanely insensitive costume involving President Barack Obama and a noose.
The University of Wisconsin was quick to respond, telling USA Today Sports:
During the first half of this evening?s Wisconsin football game against Nebraska, UW officials were made aware that an individual in the seating bowl had donned a highly insensitive and offensive costume. UW Athletics? guest services staff were dispatched to the individual?s seating area where they asked him to remove the offensive components of the costume. He complied.

UW Athletics? policy regarding admission into the stadium with a costume stipulates that no one may be wearing a mask upon entering the facility. Once inside, it is permissible to wear a mask. The costume, while repugnant AND COUNTER TO THE VALUES OF THE UNIVERSITY AND ATHLETIC DEPARTMENT, was an exercise of the individual?s right to free speech. The university also exercised its rights by asking the individual to remove the offensive parts of the costume.

UW-Madison is dedicated to promoting a campus environment where all people feel valued, safe and able to thrive. To that end, the university continues to encourage all of our community members to engage in discussion over vital issues in ways that promote greater understanding and respect for all persons.
This is never appropriate, and it?s incredibly disturbing, It backs up what UW-Madison police shared earlier, after reportedly asking the fan to remove the noose.
The follows a report from just days ago where a black student in Mississippi was attacked in an alleged noose incident.