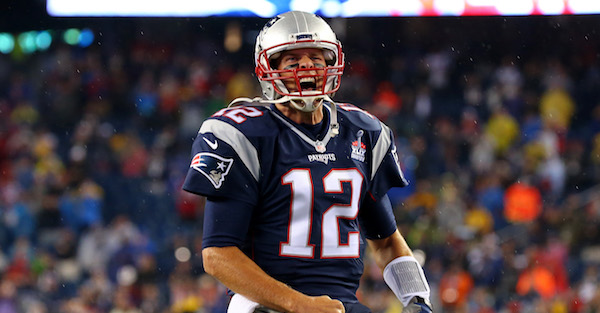 Jim Rogash/Getty Images
FOXBORO, MA - SEPTEMBER 10: Tom Brady #12 of the New England Patriots cheers as he runs on to the field before the game against the Pittsburgh Steelers at Gillette Stadium on September 10, 2015 in Foxboro, Massachusetts. (Photo by Jim Rogash/Getty Images)
The NFL and New England Patriots quarterback Tom Brady are kind of at odds with one another. Even with Deflategate (seemingly) being over and done with as Brady has finally accepted his four-game suspension, the NFL continues to stick it to Brady by barring him from talking anything football to teammates or coaches once the punishment comes into effect.
That's no game of toss in the backyard, no phone calls, no watching game footage with team personnel.
RELATED: Reports note the NFL could be taking extreme measures trying to catch Tom Brady, Patriots cheating
If you ask former teammate Kevin Faulk, Brady has a back-up plan and it's pretty ingenious considering his options. It's not like anyone really expects Brady to sit still for a month anyway.
"He's definitely going to work," Faulk said, via NESN. "There's no doubt in my mind. He's probably going to do the same regimen he's been doing for the last how many years he's been playing football, stay in that routine, and yes, I'm almost positive Wes Welker is going to be here. He probably will reach out to Randy (Moss), and Randy will come because Randy's in still good shape. Real good shape."
Of course Brady would bring the two best receivers he's ever had to work out with him while he's suspended. And he won't be breaking any rules in the process.