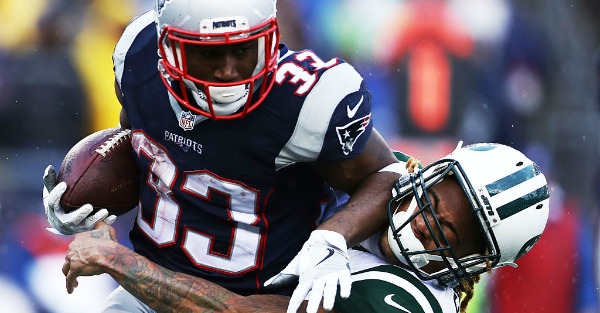 Maddie Meyer/Getty Images
The New England Patriots seem to have a revolving door-type system that, outside of Tom Brady, doesn't rely on any one player to meet with success.
Except for running back Dion Lewis, that is.
Lewis might be the only Pats player who can make this hard to fathom boast: New England is 13-0 with the 4th-year player in the lineup.
RELATED: The most heartless coach in the NFL cut a player during Christmas dinner
That stat began to take shape last season when the Pats reached 7-0 with Lewis playing—he suffered a season-ending knee injury last November—and extends to include the six games he's played this season.
Although far from eye-popping, in those 13 appearances, Lewis has tallied 458 yards and two touchdowns on the ground, and another 51 catches for 478 yards and two touchdowns receiving.
But if you know a little about the Belichick offensive machine, which relies heavily on running backs catching passes out of the backfield, it makes perfect sense that when a quick and shifty player like the 5'8″, 195-pound Lewis is having a good day, so are the Pats.