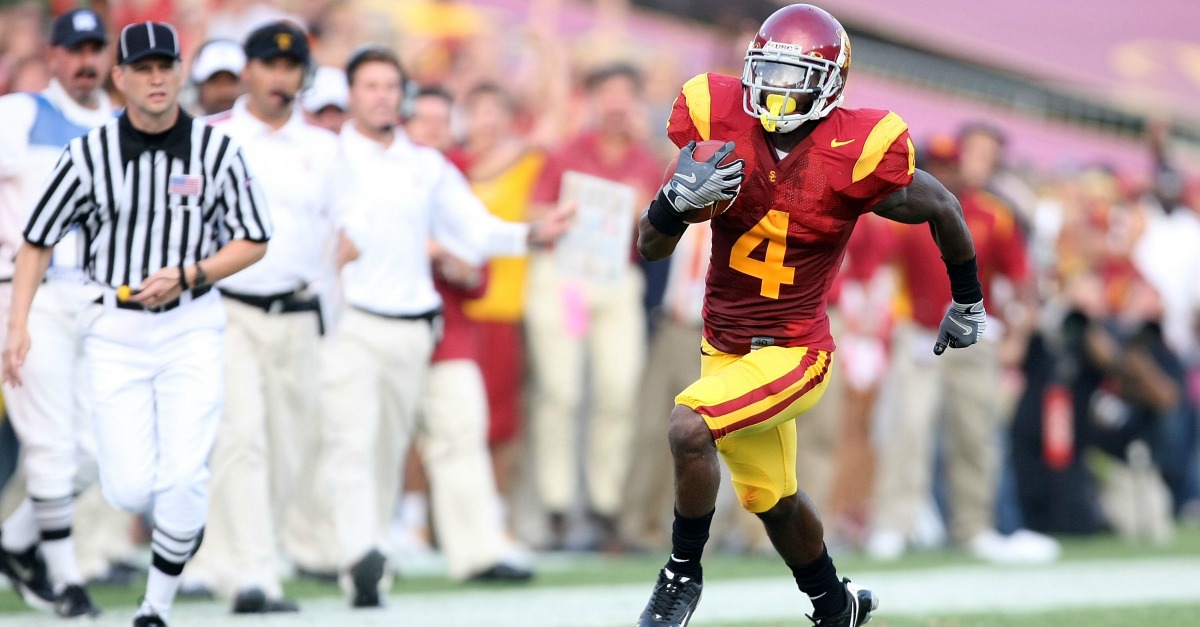 Harry How Getty Images
of the USC Trojans of the Ohio State Buckeyes during the college football game at the Los Angeles Memorial Coliseum on September 13, 2008 in Los Angeles, California.
The photo is shocking.
Joe McKnight, former college star at USC who was trying to put his football career back together again, lay motionless on the concrete pavement, between two cars, as a man stands over him.
The photo, which can be seen in the Outside the Lines report by ESPN, is the latest development in a road rage case that resulted in the death of McKnight, 28, in December.
Ronald Gasser, 54, the man accused of shooting and killing McKnight, has been charged with second-degree murder and now faces life in prison without the possibility of parole. Gasser was originally arrested on a manslaughter charge back in December, but he was indicted on the more serious charge last week. As a result, the court increased his bond, to $750,000 from $500,000, according to a report in CBS News. The remains in custody.
Legal experts speculated to ESPN that the grand jury decision on which charge to hand down could have come to whether Gasser felt McKnight was trying to break into his car. A witness, Andrew Bailey, 26, told OTL that McKnight did not appear to be acting aggressively just before his was shot three times. He told OLT McKnight appeared to be having a "general conversation" and didn't try to force his way into the suspect's car.
Gasser's layers, in an email to the Associated Press, said McKnight tried to enter the car through the passenger window while threatening bodily harm. The attorneys, Matthew Goetz and Gerard Archer, said he feared for his safety and defended himself.
Louisiana does have a "stand your ground" law that allows for the use of deadly force if the person feels their life is in danger or they're facing serious harm.
RELATED: Details emerge in the shooting death of Joe McKnight
As difficult as it to see the photo, a video of a police officer trying to save McKnight is just as heartbreaking. The officer, in this video, can be seen performing CPR in McKnight as he lay motionless on the pavement.
McKnight played three seasons at USC, registering 2,213 yards and 13 touchdowns on the ground. He also had 542 yards receiving over his career and two touchdowns through the air.
McKnight played four years in the NFL. He was drafted in the fourth round by the New York Jets, where he played four three seasons. He last appeared in the NFL in 2014 with the Kansas City Chiefs. At the time of his death, he was hoping for another chance at playing pro ball.