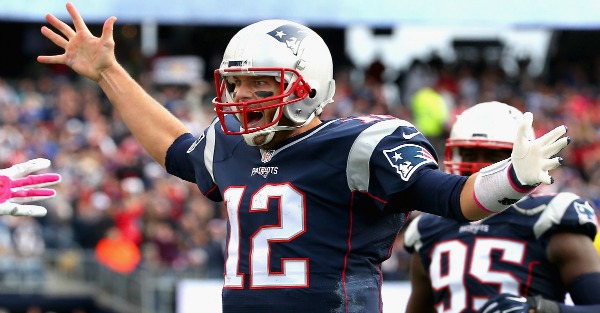 <> of the New England Patriots of the New York Jets at Gillette Stadium on October 25, 2015 in Foxboro, Massachusetts.
Quarterback Tom Brady is impressive, but rusher Tom Brady isn?t so bad either.
According to SI.com, Sunday's game against the Giants marked the first time that Brady has led the Patriots in rushing, running four times to gain 15 yards and a touchdown.
Brady boasts 842 career rushing yards, which places him in 684th place in the league. As for the touchdown, it was the QB's 16th, which helps put him on the same level with players like Kevin Faulk and Bo Jackson. Yes, Bo Jackson, who was named the greatest athlete of all time by ESPN.
Brady and Jackson now have the same number of career rushing touchdowns, with the only difference being that Jackson's were mostly from farther away than Brady's. Still, the record stands.