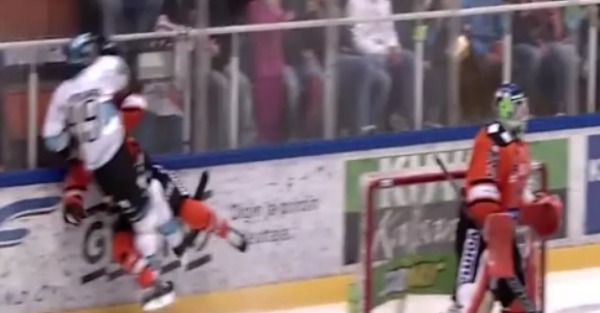 Vine screenshot
https://vine.co/v/5wwdF55q3QA/embed
If this murderous hit had taken place in the NHL, it would have likely led to some major time in the penalty box—and probably much more of a melee.
But it happened in the Finnish pro leagues when forward Antti Tyrväinen lowered quite possibly the biggest boom we've ever seen on the ice on an unsuspecting defenseman.
RELATED: Watch Evander Kane get slammed viciously into the boards
As expected, the attempted homicide did spark some fisticuffs, unfortunately the video cuts out just as things start to heat up. But this is a prime example of the car crash-type hits that make ice hockey every bit as violent as its gridiron counterpart.