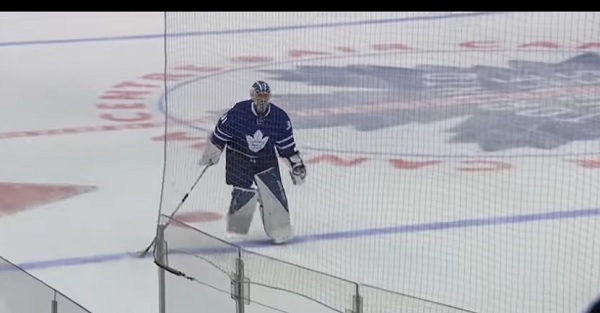 YouTube/Hockey Fights
All out hockey scuffles are usually good fun — especially when they're of the sort that involve the two opposing goalies meeting each other in the center of the ice to get some licks in.
That's exactly what went down Saturday night when the Toronto Maple Leafs and the Vancouver Canucks broke out into an all out brawl after Nazem Kadr of the Leafs landed a vicious cheapshot on Daniel Sedin. The slow motion replay clearly shows Kadr taking a good 25-foot run up to Sedin before unloading on him.
RELATED: Hockey player nearly had his head taken off with this brutal board-smashing hit
The hit resulted in a five-minute major penalty for Kadr, and several different one-on-one brawls scattered across the ice. Even Maple Leafs goalie Frederik Anderson skated all the way down the ice to get in on the action.
The highlight may not have even been the fighting, though. Leafs players Auston Matthews and Mitch Marner sat on the bench singing along with the PA system as it belted out Bon Jovi's "Living On a Prayer."