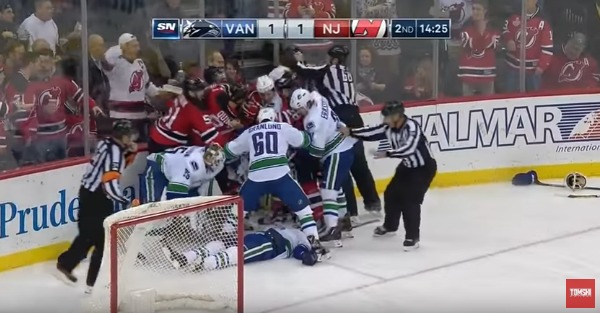 YouTube screen shot
A brutal hit during the New Jersey Devils-Vancouver Canucks game Tuesday sparked a mass brawl right at the foot of Canucks defenseman Philp Larsen's unconscious body, and could have the NHL taking a closer look at its rules.
The hit came early in the second period when Devils winger Taylor Hall laid into Larsen after he caught the puck behind the goal, knocking him clean off his feet and out cold.
A melee ensued instantly between the two sides with several Canucks players standing over Larsen's body to shield him from any further contact. But Larsen's head was actually hit by the some of the players' skates during the scuffle.
Larsen was eventually carted off the ice on a stretcher and taken to a local hospital, and it was later reported that he was conscious and responsive.
Hall was not penalized for the hit, which was viewed as completely clean, but the incident could lead to the NHL re-evaluating its stance on similar hits.
As Sportsnet points out, Hall stayed planted and did not leave his feet or raise his elbow during the hit, and appeared to do everything well within the rules. But the league has discussed similar hits and whether they could result in suspensions.
RELATED: NHL coach takes puck t the head and acts like it's nothing
After the game Hall said although he felt bad about the end result, he was only looking to make clean contact on Larsen and believes he did.
"I'm looking to make contact there but I never want to see a guy laying on the ice like that," he said. "I only know how to play the game one way, and you've got to play it hard. I feel terrible. He's a former teammate of mine…I hope he's alright. It makes me feel a little bit better that everyone is saying it was a clean hit and the referees agreed."