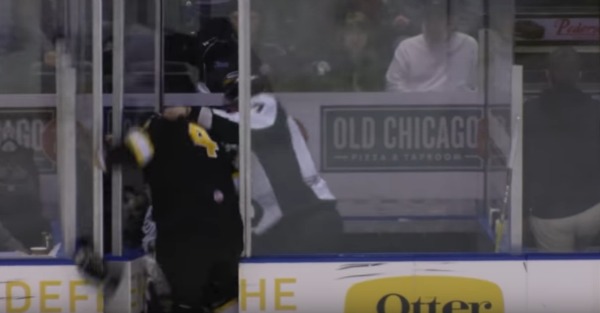 Youtube screen shot
Hockey fights are not new.
Hockey fights that continue in the penalty box? Now, that's a thing.
RELATED:  Player gets hit in the knee with the puck and it looks like he'll pass out in pain
When Utah Grizzlies and Colorado Eagles faced off in a ECHL match, things got heated.  The game featured hard hits and fights (as the video recap shows, but but it was the showdown between  Utah forward Jon Puskar and Colorado edefenseman Michael Sdao that made the biggest news.
Puskar was penalized for cross checking, and with the penalty box open, he said something that clearly angered Sdao. From there, it was on, because Sdao charged forward and started throwing hay makers. The action starts at about the video's 1:20 mark.
The ECHL has suspended Sdao for three games as a result.