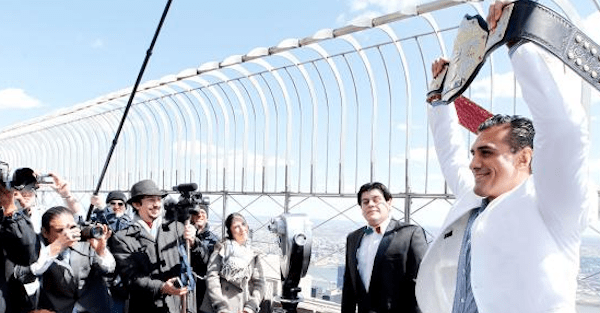 Alberto Del Rio/Facebook
Del Rio
Alberto El Patron, formerly known as Alberto Del Rio in WWE, has been stripped of Global Force Wrestling's Unified World Championship, the company announced on Monday.
GFW said their internal investigation into an incident involving El Patron and his fiancée, WWE superstar Paige, at Orlando International Airport is complete and while police's findings confirm that he did not do anything related to domestic violence charges, the company believes he did not carry himself in an acceptable manner.
Here is the company's official statement released from its website:
"GFW has concluded its internal consideration of the events surrounding the suspension of Alberto El Patron. While it is apparent that initial reports unfairly characterized El Patron?s involvement in the incident in the Orlando airport, we are nonetheless disappointed with the manor [sic] in which he dealt with this situation; we expect more decorum from all on the GFW roster, especially the World Champion.

We have communicated with El Patron our decision to strip him of his championship title. No decision has been taken as to the date on which he will be reinstated to the roster, the conditions of which are a private matter between the company and El Patron."
El Patron was suspended shortly after news broke that authorities were investigating the incident involving the couple that took place last month. He has not appeared for GFW since, missing the brand's first two house shows in two years earlier this month.
According to CagesideSeats.com, El Patron was rumored to be reinstated prior to GFW's "Destination X" live taping for Thursday, Aug. 17, however, Monday's news makes that seem less likely. GFW's weekly program, Impact Wrestling, will film episodes this weekend set to run through October in buildup to its Bound For Glory pay-per-view.
If El Patron's absent from the upcoming taping, his suspension will likely last even longer than the company's biggest event.