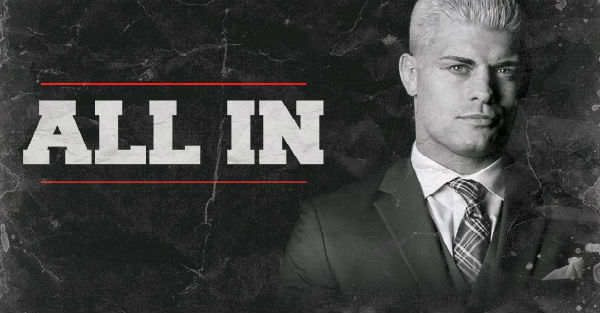 @ALL_IN_2018/Twitter
@CodyRhodes/Twitter
On Wednesday, the 10,000-seat All In pro wrestling supershow began to take form, as wrestlers were revealed and a date for the event was announced.
All of this transpired on the mean streets of Twitter, with All In visionary Cody Rhodes being first to tweet out some huge news.
Rhodes, who started a tremendous independent touring spree following his departure from the WWE, spoke to our own Raj Prashad in August about numerous things. This included his WWE exit, dream matches, and that he wanted to do a 10,000-seat supershow.
A small excerpt from a feature that is well worth your time.
?If I could add anything to (my checklist), I would add a 10,000-seat arena. I?ve seen with what New Japan Pro Wrestling was able to do in Long Beach with the G1 specials, what Ring of Honor has been able to do with the VOD shows and with the PPVs, I know that both companies together or by themselves are capable of filling a 10,000-seat arena,? he said.

?I really want to explore that option in 2018. Not just for the novelty of it, not saying ?hey they?re not WWE, but they did this.? But that the product was as good if not better.?
Other wrestlers who tweeted about being All In were the Young Bucks, Marty Scurll, Adam Page, and longtime Rhodes best bud/rival Stephen Amell.
More names are expected to be announced prior to the show, but at least we now have a starting point and a scheduled date for the event.
To be honest, this is getting extremely exciting.