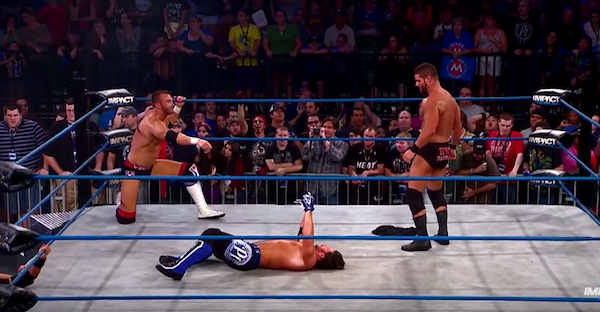 Impact Wrestling/YouTube
Impact Wrestling/YouTube
Former TNA champion Nick "Magnus" Aldis surprisingly left Global Force Wrestling recently after finishing up his contractual duties for the promotion.
It had previously been unclear as to why Magnus, who was the first ever Global Force Wrestling champion, would leave the company considering both his history with Jeff Jarrett and TNA Impact Wrestling as a whole.
We don't have to wonder any longer as Magnus opened up about why he left GFW, his loyalty to Jarrett, and more in extensive detail.
Via the Pancakes and Powerslams Podcast:
"There was no release. There was nothing like that. A contract was offered to me, which I declined? Anthem offered me a contract, I read the contract, it?s not something that ? I?ll say this in the nicest way that I can; it?s not a contract that anyone with any value, any sense of self-value or self-worth would sign. To me, the only time you should put your name on the dotted line, is if you are getting something in return. Because, otherwise, you may as well be an independent contractor. There?s no point in signing a contract to make you exclusive to one place if you?re not getting anything in return."
This is a stunning reveal from Magnus, as he specifically talks about the contract that he was offered from GFW — something that has been making headlines in the dirtsheets in recent weeks — and rips what Anthem offered him.
Magnus points out in the interview that he had been loyal to the company and Jarrett for years and, even though the former offered to continue working for the promotion on "handshake" situation, they reportedly declined.
He goes on to say:
"I could see all of the negativity and I just didn?t want to be associated with it."
Magnus is a one-time TNA champion.