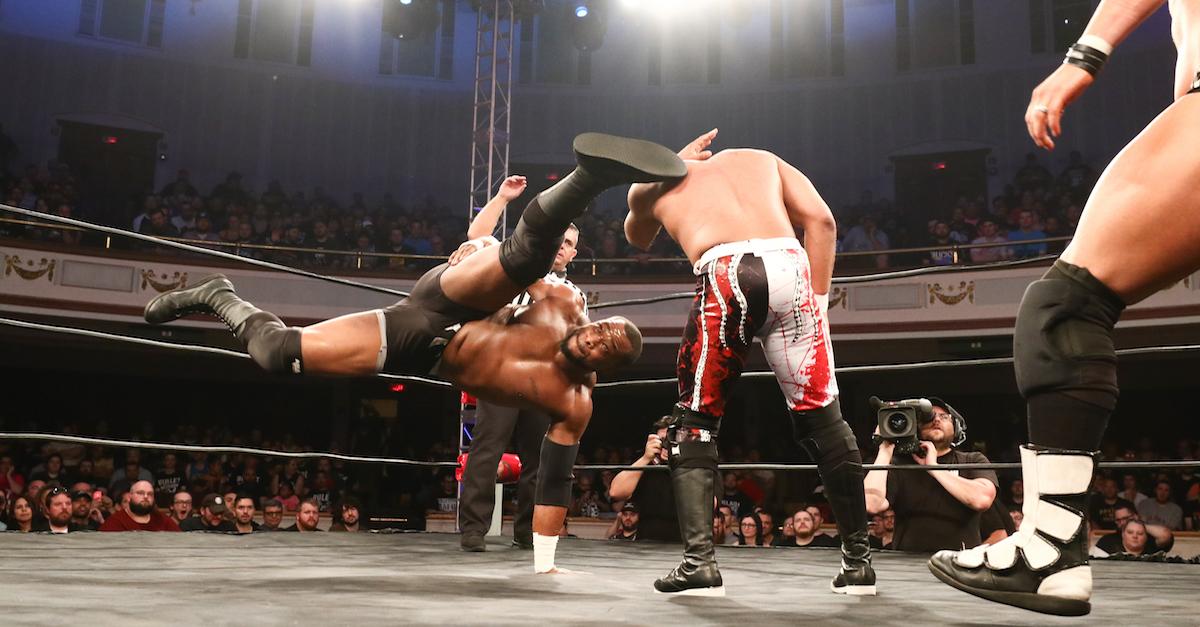 Devin Chen/Ring of Honor
Devin Chen/Ring of Honor
When Kenny King stands across the ring from Kushida on September 22, at Death Before Dishonor, he'll have one goal in mind — winning the elusive Ring of Honor World Television Championship.
"I'm obsessed at this point. It's going to be a huge match, it's going to be a huge opportunity to wrestle one of the greatest. People call him one of the greatest cruiserweights in the world, I think Kushida is just flat-out one of the best wrestlers in the world," King said during an interview with FanBuzz.
"Right now, I'm just dead focused on Death Before Dishonor. This would be my very first single's championship in Ring of Honor. I have a laser focus on that."
It's an opportunity to show everybody that I belong on the equal stage, in an elite spot with a guy like Kushida.
It's taken a long, winding road for King to get here. From training in Tough Enough to eventually landing various stints with TNA and ROH, he's ready to take the next step in his career.
"I stole one of my cousin's WrestleMania tapes, I watched it like 25 times." – Kenny King
King remembers watching Demolition battle Strike Force at WrestleMania IV, and the ridiculous, flamboyant characters of the 80's. He found himself enamored with the likes of Rick Rude and Mr. Perfect.
"If you watch Ravishing Rick Rude, what dude doesn't want to take his robe off and make women scream. And to look like that and kick ass. When he kissed Jake the Snake's wife, I thought Jake the Snake was going to kill this dude," he said.
"Mr. Perfect, I still spit my gum out and swat it. That kind of character, he wrestled with such self-confidence. Everything he did was crisp as a dollar bill. Everything."
Even as playing football began to become the focal point of his life throughout high school, King couldn't be dragged away from the wrestling world.
"My junior, senior year, my dad was in the living room watching Monday Night Football and I'm in the kitchen flipping between Raw and Nitro. My dad came in there, 'What are you doing, you're supposed to be watching football and understanding coverages and you're watching this?' I was like 'yeah, yeah, yeah.' I still give him a hard time for it. 'Remember you used to discourage me for doing this and here I am,'" he said.
"Somewhere, some kid is getting yelled at for watching me instead of watching football."
King's college football career took him from Florida State to the University of South Florida and eventually University of Las Vegas. As he walked around campus at UNLV, King described seeing an ad for the second season of Tough Enough.
"Honestly, I just wanted to be on MTV," King said with a laugh.
"I remembered seeing the original Tough Enough and seeing they made you jump rope. I can jump rope with my eyes closed, I can run these bag drills with my eyes closed. I loved pro wrestling. Tough Enough, I was kind of like I could do that. The likelihood of (making it) was very, very low. I remember I had to redshirt my year at UNLV, so I wasn't playing that year. I had no idea I would choose this as my career path. At the time, I just wanted to be on MTV and show I could do what those guys could do."
The decision to join Tough Enough meant the end of King's football career and the development of a solid wrestling foundation from some of the sport's best trainers.
"It gave me a solid foundation. I got to be trained by Al Snow, Chavo Guerrero, Bobby Holly and Ivory. Being able to get a Harvard style crash course on the fundamentals of pro wrestling. I've always kind of based my success off of that foundation. You have to have good fundamentals to build off of that," he said.
King finished as a joint runner-up to Jackie Gayda and Linda Miles, who both won the season. He went on to work the indie circuit after Tough Enough was over before bouncing to TNA Wrestling in 2005.
"Those RVD and Jerry Lynn matches were probably the reasons I became a pro wrestler." – Kenny King
King's first run with TNA was from 2005-06 as he attempted to find his footing in professional wrestling.
"The first time was not very successful, but it was a learning experience," he said.
King would return to TNA in 2012, where he had opportunities to work with guys who had heavy influences on his career.
"When I found ECW, I didn't care about anybody but Taz, RVD and Jerry Lynn. Those RVD and Jerry Lynn matches were probably the reasons I became a pro wrestler. The first and the second of those matches, it was poetry," King said.
"Then to have the ability to get in the ring with Jerry Lynn, get in the ring with Rob Van Dam and win the X-Division championship. When I look at where I was, what I came from and where I've been, those are some of the ones that stick out forever."
In 2014, he'd be pushed to the top of the card alongside top guys Bobby Lashley and MVP as members of the Beatdown Clan.
"If you're put next to those guys, you've got to be able to produce. These guys are legends. Lashley is a legend, MVP, he needs no introduction," he said.
"To be able to go out there and wrestle with Lashley and talk with MVP, that speaks for itself. It shows what kind of caliber skills that I have."
King's second run with TNA ended and he returned to ROH with his focus on a bigger role.
Once you climb that mountain, you can check out the view, but there's a whole lot of steps left to take.
King's second run with ROH came with an unexpected surprise — an appearance on the Bachelorette. The casting call came right in the busiest time of the season, just ahead of WrestleMania weekend, where ROH had scheduled their biggest event of the year — Supercard of Honor. ROH allowed King time off to be on the show before he returned in early May.
"I couldn't be more appreciative and grateful to Ring of Honor. From the very beginning, everybody was just like, 'Do it! Whatever you need.' They gave me the time off to do it; I missed Supercard of Honor. I'm very thankful to Ring of Honor for being so supportive. Literally whatever I needed, they were there for," he said.
With the Bachelorette now in the rearview, King is solely focused on his wrestling in the United States and abroad.
"This is something MVP and I used to talk about. Very few professional wrestlers get to go to Japan and wrestle. It's a badge of honor. The Tokyo Dome, the Japanese culture is fiercely protective of pro wrestling. It goes through periods of being cool and not cool in America. In Japan, it still has that respect, that luster to it. Being able to wrestle over there, add my name to the list and get (myself) a Ribera jacket, those are some of the top goals for me as a pro wrestler," said King.
Working in New Japan, I would trade a WrestleKingdom moment for a WrestleMania moment if I had the opportunity. Who knows how many years I have left in pro wrestling. I just want to focus on what I know and what I can put my fingers out and reach."
I'm working myself to death to beat Kushida.
Arguably the biggest goal for King now is winning his first single's title in ROH, and he'll have that opportunity when he squares off against Kushida at Death Before Dishonor.
"It's a validation of the refocus that I've put in my wrestling career after being away for a little bit to do the Bachelorette. (Winning the title) would just be validation of the fact that when I put my head to it and go, I can go with anybody and I am truly amongst some of the best in the world. It's just another indication that I belong," he said.
"At this stage, winning the title means everything."
Death Before Dishonor airs on pay per view, ROHWrestling.com and the Fite.TV App at 9 PM EST/6 PM PST on September 22.
Related Ring of Honor stories