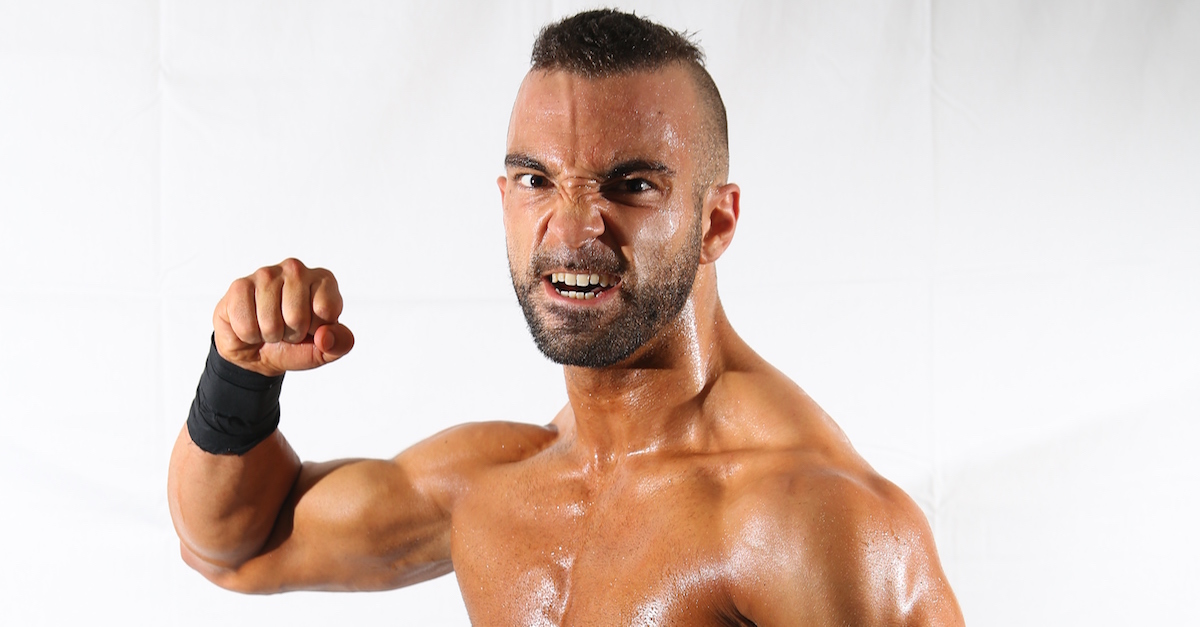 Ring of Honor/Bruno Silveria
Ring of Honor/Bruno Silveria
Ring of Honor has built its foundation as one of the top professional wrestling promotions in the United States.
While attracting stars developed elsewhere, they've maintained a top-level run by continuing to churn out quality performers from the ROH Dojo. Will Ferrara, just 25 years old, is one of those young, talented athletes.
For Ferrara, coming back to Atlanta on Saturday, February 10 at Center Stage means returning to a town full of wrestling history.
"It?s one of my favorite venues because of the history," Ferrara said in an interview with FanBuzz.
"It?s really cool when I take a step back and see all the things that happened before within those walls. Fifty years from now, you can take a look back and say that I was apart of it."
Like many before Ferrara, it's been hard work that continues to push him forward.
"When you get complacent and you feel like you have all the answers is when you stop learning," he said.
"So I try to keep myself in the perspective of, if someone like Ric Flair could learn something every day, then I could learn something for the next billion years. As long as I try to keep improving myself, keep frustration out of the mix and keep working toward my goals with a positive attitude."
That perspective is key, and has stuck with Ferrara for quite some time.
Ferrara developed his fundamentals early
Growing up in Queens, New York, Ferrara got his first taste of training at just 14 years old. Instead attending sports practices after his high school classes, Ferrara was spending his after-school time working to be a professional wrestler.
"I guess my parents thought, ?well, the sooner we let him do it, the sooner he?ll grow out of it.? Little did they know that?s not how it would work out," he said.
Ferrara would have his first match at just 15 years old.
"It was a three-minute match. My birthday was June 30, on July 1, I had it. Watching back, I cringe at everything I was doing," he said.
"It was just so fascinating to be involved in wrestling at that age. I just wanted to be in the ring. I was such a kid.?
He bounced around training with Johnny Rodz and ECW legend Taz before landing with the Ring of Honor Dojo. It's there that Ferrara feels he grew leaps and bounds.
"The first time I went was for a tryout seminar, and it was only for a weekend. I felt like at that time, I learned more that weekend than I did the past two years combined wrestling everywhere else," Ferrara said.
"I felt I needed to be involved in that environment as frequent as I can. After I did a few camps, I started traveling to the dojo from Queens, about 2 hours each way. I would just come every week as much as I could, and learn from Delirious, who wore so many hats around Ring of Honor. The more I was around the environment, I would start picking up things from everyone."
The Dawgs and coming into his own
Ferrara has been rising through Ring of Honor over the past few years, but his career has really taken a turn thanks to his pairing with Rhett Titus, creating the tag team, the Dawgs.
"Whether unintentionally or intentionally, he brought this personality out of me. It?s based on our real-life dynamic. He pushes all my buttons and revs me up. He has my back and I have his back. It wasn?t until we paired together when I let my natural side out, which I was kind of lacking for awhile," he said.
"I had this mental drawback ? we all want everyone to think we?re cool and everyone to like us. I was very timid to put myself out there. Being out there with Rhett, it?s almost like we do it for each other. If I?m going to do this stupid thing, and they think I?m crazy, so what. My dog is right behind me and they?ll think he?s dumb too. At least we can look dumb and have fun together. I think it?s cool to just let your guard down and have fun. It?s easier to do that when you?ve got your dog right there behind you."
For the Dawgs, the future couldn't be brighter. They've had matches with top-tier talent such as the Young Bucks and the ROH tag team champions, Motor City Machine Guns, and they hold the last United States victory over the former IWGP Junior tag team champions, Roppongi 3k.
On Saturday, at Center Stage, Ferrara and Titus hope to keep that upward trajectory early in 2018.
"The last time we were at Center Stage, I had my favorite match of 2017, which was against Cheeseburger one-on-one. My goal is to always top what I did the last time I was in a building, so with Coast 2 Coast, we?re going to look to tear it up this weekend,'" he said.
"After we beat them, we?re going to ask for some beers, so if you will, please knick knack patty wack, grab these Dawgs some beers at one of my favorite arenas, Center Stage."
The show kicks off at Center Stage Saturday night at 7:30 p.m. ET.