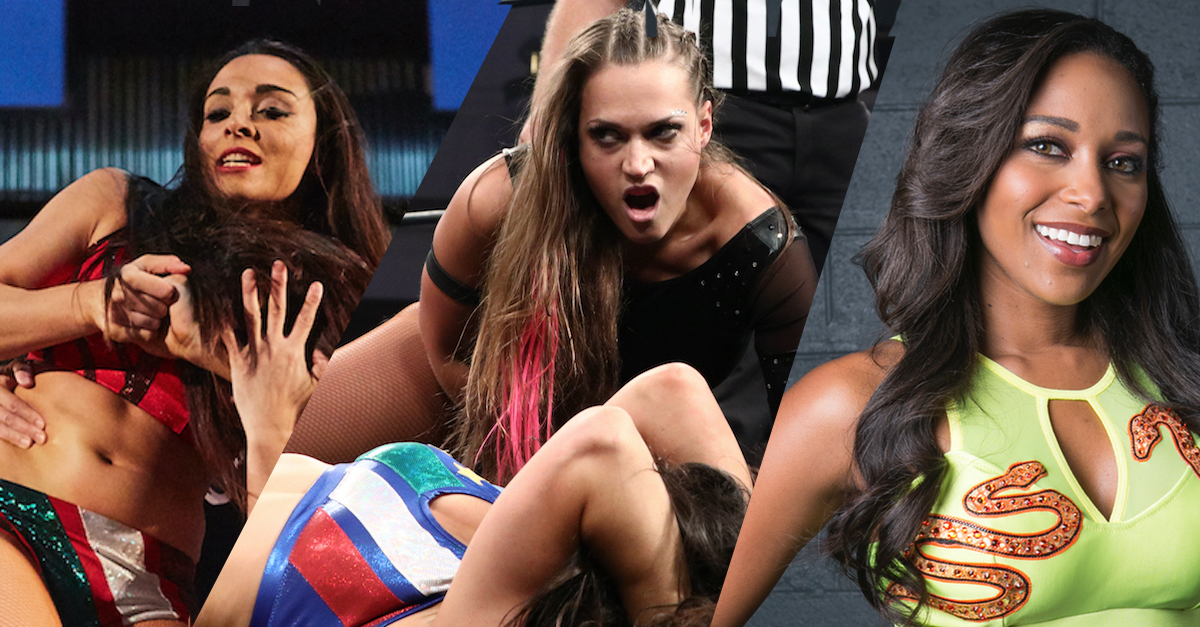 Ring of Honor
Ring of Honor
On January 20 in Nashville, Tennessee, the first two matches of the inaugural Women of Honor tournament to crown Ring of Honor's first women's champion will be held.
Since the company's inception, Ring of Honor has showcased women's wrestling on a variety of different platforms. It wasn't until 2015, though, that one match became the launching pad for what the Women of Honor promotion has developed into today.
"It's been three years in the making," Deonna Purrazzo, who will be one of the exclusive 16 women to compete in the tournament, said in an interview with FanBuzz.
"I think (ROH officials) saw if the WWE can do it, and TNA has been doing, then we should ride this wagon too. Mandy (Leon) was a dojo student pushing for it, saying, 'Hey, can I get in the ring with a girl and get a match.' She had to ask a million times for that. Finally, they were like, 'Here it is, do what you can.' I don't think they expected it to take off how it did whatsoever. The first match in 2015, Mandy vs. myself, they kind of didn't have a choice. The internet loved the fact that they had women's wrestling again so much."
That dedication to building the Women of Honor brand helped bring about the championship and tournament. Along the way, elite athletes around the world had a little something to do with the recent explosion of interest.
Shift in women's sports
For top women's stars, the opportunity to become champion comes on the heels of a women's revolution not just in pro wrestling, but across the world of sports.
"I don't know if it started in women's wrestling," Purrazzo said. "I think having figures like Serena Williams and Ronda Rousey, these powerful women athletes around the world, really pushing for equal women's rights all over the place really helped WWE, the mainstream product, push for women's wrestling. And then it kind of trickles down."
Williams has long been dominant in professional tennis and as an all-around athlete. Rousey's rise to stardom and utter domination in the UFC helped bring respect to women athletes globally.
Ring of Honor COO Joe Koff believes some of the sudden boom in women's wrestling also has to do with simply having better athletes.
"I think the women wrestling for us and around the world are much better in their abilities and they take their wrestling very seriously," Koff said.
"They want to be treated as a professional wrestler in the same regard as the males are. I think because of that, it forced the industry to take a closer look and start developing these talents as a more formidable set of athletes."
Despite the rise in ability and quality of wrestling on a broad scope, Women of Honor star Kelly Klein still sees double standards when it comes to comparing women and men.
"This happens in other areas other than just wrestling. People will argue against something using one or a few examples to support their side even though those examples don't represent necessarily the majority. When people say things like 'women's wrestling isn't as good as the men's wrestling,' sure you can find examples of women's wrestling that isn't as good as certain men's wrestling. And you can also find some men's wrestling that is not as good as women's wrestling or men's wrestling.
"It all comes down to what you're looking at. If you're looking for something to prove your point, you will find it. To say those things to discount the women who are training and are working and are at a different level, I think that is really ignorant and narrow minded. When people say that kind of thing, really they are limiting themselves and they're missing out on really incredible athletes. If they stand back and look at each person as an individual and not label an entire gender, they could see each person for what they really are and what they can bring," Klein said.
"I know there are some men who are better that are better than me, there are some men that I'm better than. There are some women who are better than men, there are some women that I am better than. Thats just how it is."
For Klein, Purrazzo and Brandi Rhodes, there's a clear understanding that the time to strike is now.
"Things are so great right now for women's wrestling. Everything is at our advantage," Rhodes said.
"It's not very difficult to get people to view the product. Women of Honor is really growing with the announcement of the championship tournament. It's a great time in wrestling for everyone. People are open to different ideas right now. This is the time to strike. If people aren't striking, I don't know what they're waiting for."
For Purrazzo, fighting for the championship means proving yet again she's one of the top women's wrestlers in the world
Growing up, Deonna Purrazzo knew she was destined to be a professional wrestler. Starting out, Purrazzo recalls being "thrown to the wolves" on pay-per-view with TNA wrestling at just 19 years old and with only about eight matches under her belt.
"Robbie E had helped train me quite a bit, and they needed an extra girl, so he said, "You know Deonna, just bring her in and use her." I got a call like 12 hours before I had to fly out to Florida and do this TNA PPV,"  Purrazzo said.
"Reflecting now, it set me up for a really good future. I was in a lot of the right places at the right time. It kind of set me up to do a lot really fast, and that's kind of how my career has been since."
Purrazzo's rapid career trajectory has only continued to rise in parallel with the shift in women's wrestling, with stops at TNA and WWE along the way.
Purrazzo is credited with helping to establish the Women of Honor brand thanks to her match with Leon in 2015. It's because of that, that she holds so much pride in being one of the 16 women to wrestle in the inaugural Women of Honor championship tournament.
"I think, to have been in that first match and the person who helped start this and open Ring of Honor's eyes, I have so much pride for each and every woman that works with Women of Honor and who will be in this 16-woman tournament. We get to write our own history," Purrazzo said.
"The person who is going to become the first ever Women of Honor champion, it's never been done before. Every step we take further to crowning the first champion is history. I got to kind of start that and start this trend — it's an amazing feeling. I've only been wrestling for five years. To be 23 and at the forefront of this movement, it's a life goal that I didn't expect to be happening."
With Purrazzo under a brand new Ring of Honor contract as well as recently being named Women of Honor wrestler of the Year, the sky truly is the limit for an early favorite in the tournament.
For Klein, fighting for the championship means making wrestling history
Kelly Klein's path to pro wrestling was a bit different. She wasn't allowed to watch professional wrestling growing up. She was in a rock band and working as a waitress when she was invited to an independent show. Instantly she was hooked.
"The first time I went to see a live independent show was the first time I had really seen professional wrestling at all," Klein said.
"Not far into that event, I had already decided I didn't want to come back and watch — I wanted to come back and do it."
With no frame of reference, Klein feels she's been able to have an open mind and endless creativity with her character. Instead of trying to mimic a character she may have watched growing up had she been around the product, she's focused on the background she knows — amateur wrestling and greco roman style wrestling.
As the Women of Honor tournament kicks off, Klein sees a real opportunity to build something unique.
"When I first started training, I would see things happen and see opportunities come up for women in wrestling but they weren't opportunities I was in a position to take advantage of. You can never re-create those opportunities. There's always only one first. Once that happens, that's it. It's really special to be a part of history how I was apart of this relaunch of Women of Honor — a part of this big drive and push," Klein said.
"Because of all the pieces falling into place, we're able to have a tournament and have a championship and have women on pay-per-views and women's episodes and multiple women's matches on events. I was ready to fill the role when they needed it, because of that I'm able to be included and be apart of it. That's something that will never change — that I and these other women were apart of this moment in women's wrestling and wrestling history."
For Rhodes, fighting for the championship means never taking no for an answer
More than a year ago after leaving her self-proclaimed "cushy" job in WWE as a ring announcer, Rhodes is pursuing her dreams and passions inside and outside the ring.
"My interest was always to be in-ring. The advice I was given when I started was be open to doing everything, and be good at everything. Which essentially is pretty good advice. It can work against you if you end up being really good at something that you don't actually want to do. That's how I ended up in announcing and on TV broadcasting. Once I did it, everyone thought I was ready to do that," Rhodes said.
"Instead of training to be in the ring, I ended up spending my time with that. It wasn't ultimately what I wanted to do."
She left the promotion with her eyes set on the road and carving her own path. Brandi Rhodes maintains when she left WWE, she had a clear focus on what would be next.
"One thing I was hellbent on was, I didn't want to just do everything that Cody did. I thought that would just be the most loserific thing you could possibly do. I wanted to do a lot of things on my own," she said.
"That was kind of what happened with the Impact stint. I wanted to do that for myself and by myself. He came in for some dates and that was cool. But ultimately, it was my thing. Now, transitioning to Ring of Honor, it's kind of cool because Women of Honor is its own thing."
In addition to developing her wrestling career, Rhodes is running in all directions, recently as a member of WAGS Atlanta, which can be seen Wednesday's at 10 p.m. ET on E!, and as a style/fashion blogger with OK! Magazine.
"In the filming process, it was very difficult. It was very tough to make it all work at the same time. Most scenes I was walking off a plane and getting right into where the scene was. It was a lot of work to be a part of it and film," she said.
"I love writing. It's very rewarding. Hopefully, it continues to grow and everything continues to go well with that."
Balancing everything in her life and developing her in-ring career has been challenging, but Rhodes notes she loves every minute of the madness. As far as competing in the Women of Honor tournament, Rhodes sees this as a trailblazing opportunity.
"The girls who have been there since the beginning, they have deserved it for a while now. I'm so excited to be apart of it. It's kind of like an elite few people who get to say, 'I was in the first ever Women of Honor championship tournament.' It's really amazing. It's kind of trailblazing and paving the way for girls later on. They're now going to have a championship because a couple of ladies waited it out and stuck with it," she said.
"I'm just honored to be apart of everything."
As for what winning the title would mean to her? Rhodes believes it's the perfect reason to never take no for an answer and always follow your dreams.
"Oh my gosh, for me personally, it would mean everything. For my fan base, who has followed me through this crazy career that I've had. It would show everyone that taking no for an answer, you have no excuse. If you can go from being in a cushy job, where you don't hate it, but you don't love it. And you step out and say, 'Hey, I want to own my life and own what I do.' And a year and a half later become champion. Well, that's all the motivation in the world for anyone," Rhodes said.
"It would mean so much to be able to continue to push the message that your dreams and happiness, there's no time limit on them — you've got to chase them."
Whether it was getting into wrestling because of a sibling's interest (Rhodes), becoming mesmerized by "Stone Cold" Steve Austin cracking someone in the head with a chair (Purrazzo) or eventually stumbling into an independent show while trying to make it as a rock star (Klein), everyone's story of starting out is different.
For these women and the other 13 competitors, there's one thing in common — they'll scratch and claw starting January 20 to become the first ever Women of Honor champion.
At Music City Excellence on January 20, the first two matches have been announced in the tournament, and they'll include Mandy Leon taking on Madison Rayne, as well as Brandi Rhodes facing off against Karen Q.
Related Ring of Honor interviews