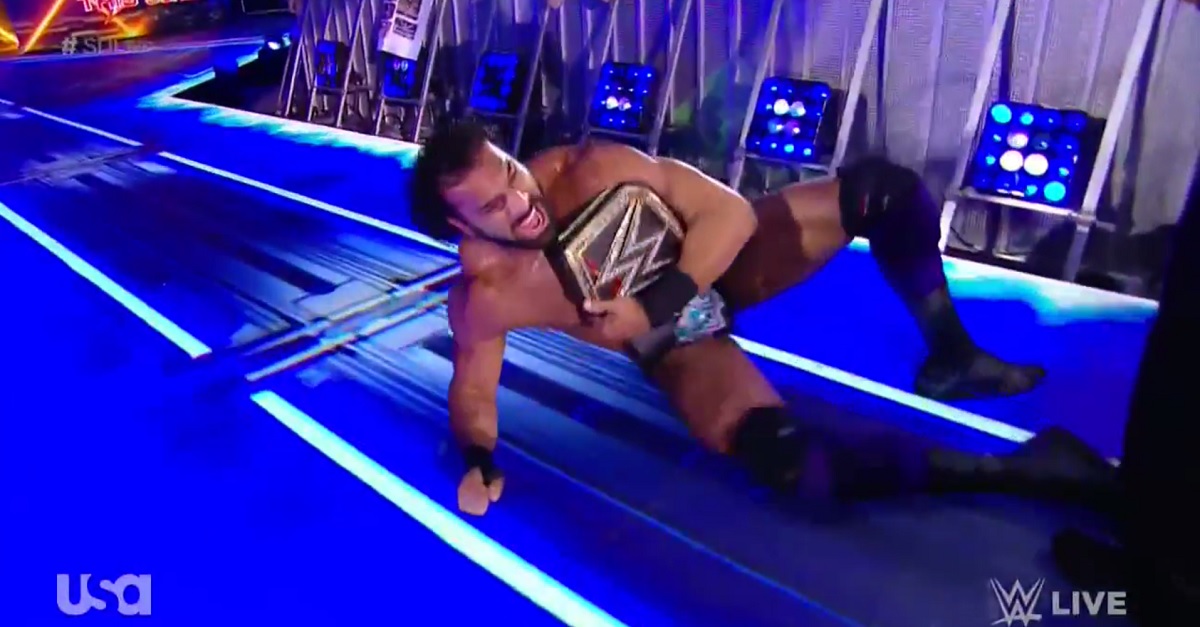 WWE
There was a WWE Championship match to close out Tuesday's episode of SmackDown Live, as Baron Corbin cashed in his Money in the Bank privileges for a match against champion Jinder Mahal.
The match… went six seconds.
That appeared to be all part of the plan, but there still may have been a screw up for how the exact finish happened. Take a look.
Skip about 50 seconds into the WWE's video above and look at what happens when Mahal goes to rollup Corbin. For the pin, it looks like Mahal shifts as if he is trying to get his feet on the ropes for the pin, but then fails before the ref is able to count to 3.
It's still possible that the finish went exactly as planned, as WWE may have just wanted to get the briefcase off of Corbin. It's possible that he was no longer apart of their plans to win the title, and this was a shocking way to make that happen on television.
But in pro wrestling, when a pin takes place that close to the ropes and it looks like a guy may be trying to reach them… there's usually, usually something to that. It would make some sense here too, as a cheat-to-win pin for Mahal would give WWE incentive to give the Money in the Bank briefcase back to Corbin. Instead, he loses his title shot outright.
I guess we will have to wait until SummerSlam to see how WWE plays this one.