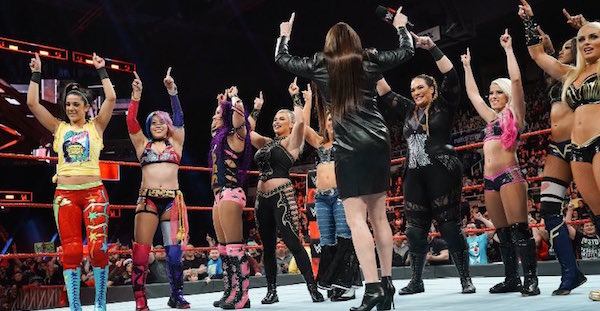 @ALegitLegacy/Twitter
@ALegitLegacy/Twitter
Wrestling Observer Newsletter's Dave Meltzer believes WWE has already given up on Bayley and Monday's loss to Absolution in a 6-woman tag-team match was clear evidence.
The former NXT and RAW Women's champion was pinned by Paige shortly after receiving a "hot tag" from teammate Sasha Banks.
Bayley landed her finisher, the "Bayley-to-Belly" on the former Divas Champion, but interference from Sonya Deville and Mandy Rose, as well as a melee outside of the ring between the two teams, shifted momentum.
Paige capitalized by using the "Rampaige" to earn the win over Bayley, Banks and Mickie James — who has been used during the majority of her return to WWE as a "filler to lose on the roster," which makes creative's decision for Bayley to instead take the pinfall even more notable, according to Meltzer.
"They have already given up on her," Meltzer said. "And they've given up on her a long long time ago. When they're gonna protect Mickie James over you when Mickie James was brought in to be a filler to lose on the roster, that just tells you. The dice has been cast with her already."
It does seem strange that WWE would have Bayley take the pin rather than James, who has undoubtedly been used to get newer talent over given that her past accolades help her remain a legitimate character regardless of recent losses.
Then again, had Bayley not been given the "hot tag" spot, she wouldn't have been the one who was "supposed" to win before heel tactics spoiled the would-be victory.
WWE's booking of Bayley has been suspect since she joined the main roster in August 2016. Rather than the long underdog build-up of NXT, the former champion has had sporadic moments of dominance, but has mostly been used as filler or someone who can't seem to put together a consistent winning streak.
Hopefully WWE will put more effort into her booking in 2018, but given the past year-and-a-half, that doesn't seem likely.