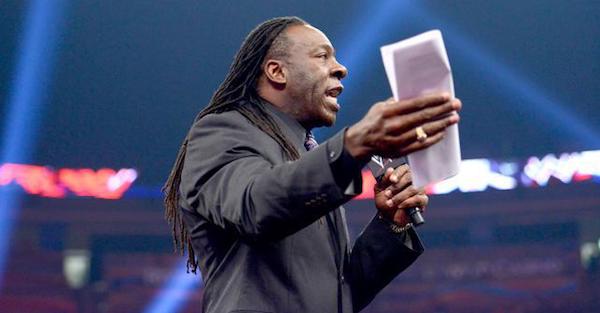 Booker T/Facebook
Booker T/Facebook
Jason Jordan's Monday Night Raw showing has been lackluster at best since his debut as Kurt Angle's "son".
A former NXT tag team champion and Smackdown tag team champion, Jordan was thought to have big plans destined for him. Over his near four-month run, he's had no memorable matches or feuds and was taken out by Bray Wyatt and Triple H on Monday night, leading to Booker T taking aim at the young up-and-comer:
https://www.youtube.com/watch?v=VRm0C_zQ0vA
Here's what he said, per Reddit:
"I'm not a big fan of Jason Jordan. Opportunity in this business is few and far between. He has not proved himself to be a top guy. I don't see one sign in the crowd for Jason Jordan. If you ain't got that, that tells me either you aren't that hot, or people just don't care."
Whether Monday night's events sets up for a bigger program with Kurt Angle, Triple H or anyone else is yet to be seen.
As of now though, he's floated along with nothing truly spectacular about his run.