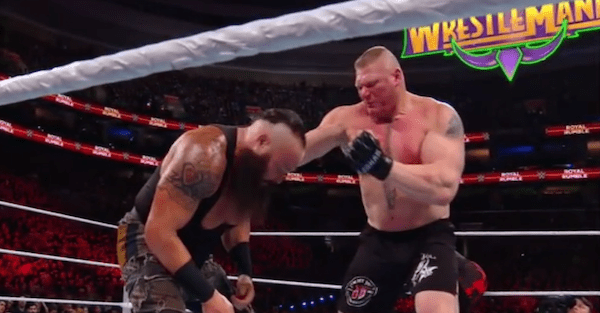 Twitter/Screenshot
WWE Network screenshot
Some of the most captivating moments in wrestling are when the lines are blurred between what was scripted and what was real.
WWE provided one of those moments at the Royal Rumble, as Universal Champion Brock Lesnar and challenger Braun Strowman traded a couple of very real strikes at one point in their title match. Strowman hit Lesnar with a stiff knee to the head, and Lesnar responded with a couple of power punches that could have easily knocked out most individuals.
In an interview with Patrick Lennon of the Daily Star, Strowman shrugged off the minor scuffle, saying that "stuff happens" and that pro wrestling is a contact sport.
He explained: ?Any time Brock and I are in the ring it?s very physical. You?re talking about two larger -than-life human beings who are fighting for dominance. Stuff happens.

?It?s a contact sport ? it?s not tennis. We?re not going out there to slap a ball around, we?re going out there to beat each other up. That?s what we did.?
This wasn't the first time that Lesnar and Strowman seemed to have a bit of a misunderstanding in the ring… heck, it wasn't the first time it happened at the Royal Rumble, either. Back at the 2016 Royal Rumble, Lesnar appeared to give Strowman — then a member of the Wyatt Family — several stiff clotheslines as Strowman initially didn't go down in a spot designed to make Lesnar look strong.
Strowman doesn't seem too bothered by that kind of physicality, though, as the 6-foot-8, 380-pound monster probably appreciates that there's another guy in the company that can deliver that kind of power in a match.
Lesnar won the match at the Royal Rumble, though it was by pinning Kane via triple-threat rules. Strowman's next chance at the title will be at Elimination Chamber, where he will be in the No. 1 contender's match for WrestleMania 34.