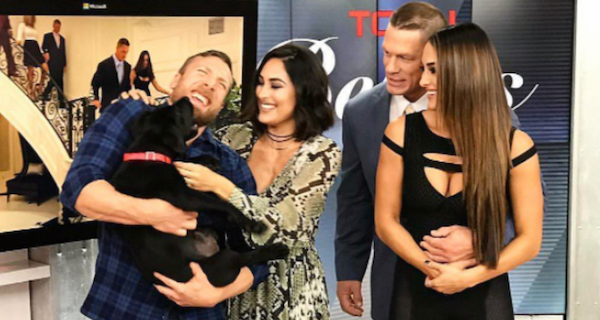 Brie Bella/Facebook
Brie Bella/Facebook
Former WWE women's wrestler Brie Bella is reportedly exploring returning to professional wrestling in 2018.
The report, from the Wrestling Observer's Dave Meltzer's newsletter, points that not only is she exploring a potential return, but that she is also looking to get coached by her husband and former WWE wrestler Daniel Bryan.
Via Wrestling Observer:
"Brie Bella is looking at returning in 2018. She and Bryan have talked about putting a ring up on their property where they can train together and he can coach her for a return."
This is a very interesting development, as Bella and Bryan just had their first child, and with rumors continuing to swirl about Bryan's future in the WWE, a return to WWE in 2018 would make things even more interesting for the power couple.
Bella has been away from wrestling since mid-2016, and, unlike her twin sister Nikki Bella, it hasn't been because of injuries that derailed her career. However, Nikki, like Brie, has been rumored to potentially return to WWE television in the future as well, so perhaps we could see a dual return for the twins in 2018.
Brie Bella has had an interesting run in professional wrestling, as she was booked as a top babyface in the Women's division prior to her exit in April of 2016, but she was never the worker or talent her sister, Nikki was both in the ring and on the mic. The Wrestling Observer actually awarded her with the Worst Worked Match of the Year in 2013 and Worst Feud of the Year in 2013 and 2014.
Brie Bella is a one-time WWE Divas champion.