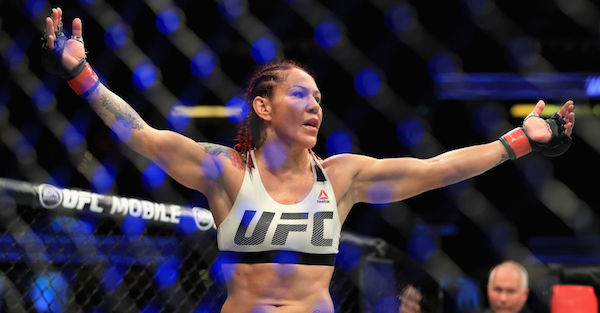 Sean M. Haffey/Getty Images
ANAHEIM, CA - JULY 29: Cris Cyborg of Brazil reacts to defeating Tonya Evinger during their Featherweight Title fight at UFC 214 at Honda Center on July 29, 2017 in Anaheim, California. (Photo by Sean M. Haffey/Getty Images)
UFC 214 was a big night for Cris Cyborg, as one of the most dominant women's MMA fighters in the UFC won the featherweight title.
She wasn't done, though, as Cyborg, who has been feuding online with WWE superstar Becky Lynch for some time, issued a big-time challenge to Lynch for SummerSlam.
Lynch played up their rivalry by warning Cyborg about wanting to step into the ring with the Lass Kicker, but she didn't back down and posted the following.
It's interesting just how much Cyborg has been promoting and pushing the match on her Twitter timeline, but nothing has been reported to be official as of yet.
Still, the fact that both stars have been engaging in this back-and-forth seems to indicated a match is likely, and with how big SummerSlam has become for the WWE, it would make sense to stack the card as much as possible, especially with a Ronda Rousey appearance also reportedly in the works in the not-too-distant future.
Cyborg won the Featherweight title at UFC 214 Saturday night.