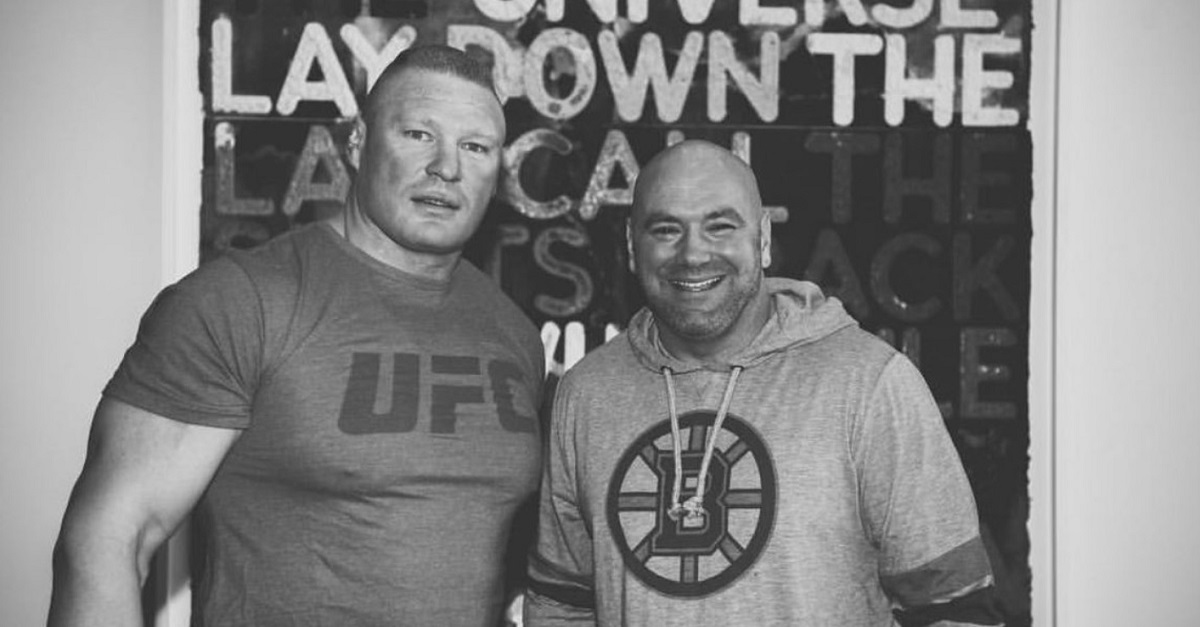 Twitter/Dana White
Dana White is a promoter… he knows that he needs to do a lot in order to make sure people are talking about his UFC product as much as possible.
So make no mistake about it, White knew exactly what he was doing when he posted this picture of himself and Brock Lesnar right as WWE's Elimination Chamber pay-per-view show was beginning.
Lesnar, the former UFC heavyweight champion and current WWE Universal Champion, made his UFC return back at UFC 200 while still under WWE contract. Since that fight — which Lesnar won, though the result was vacated after Lesnar was popped in a drug test — there has been speculation that Lesnar would eventually head back to UFC once his WWE contract was over.
It just so happens that Lesnar's WWE contract ends soon after WrestleMania 34 in New Orleans, where it is currently expected that Lesnar will lose his Universal Championship to the winner of Sunday night's No. 1 contender's match.
For what it is worth, though, there was the same speculation the last time that Lesnar's WWE contract was set to expire back in 2015. Lesnar gave the same teases that he could return to UFC, and he used that negotiation leverage to land another big deal to stay in pro wrestling. There is also the question of how many fights Lesnar would even have in him, as the former UFC champ turns 41 in July.
In WWE, Lesnar is a five-time world champion, and he has been the reigning Universal Champion since WrestleMania 33, where he defeated Goldberg to win the title.