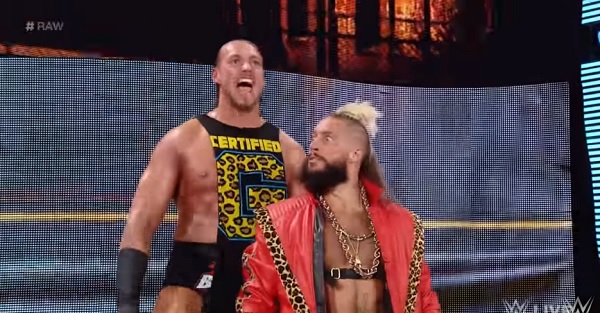 In professional wrestling, art tends to imitate life.
Scripted promos can blur the lines of kayfabe and tap into real life drama. So if the recent rumors surrounding WWE superstar Enzo Amore are true, then his former tag-team partner Big Cass' heel turn promo in June was no exception.
During their verbal spat, Cass revealed that he had always "felt sorry" for his former best friend because he was hated in the locker room. At the time, it seemed like a jab that was supposed to pull at the fans' heart strings who witnessed Amore, a babyface character, get dumped by his longtime teammate.
However, according to The Wrestling Observer Newsletter's Dave Meltzer (subscription required), Amore has been getting backstage heat from his coworkers, which included being kicked off the tour bus by Roman Reigns during WWE's European Tour earlier this year.
Meltzer wrote:
"There was an incident on the tour bus when the talent was traveling together several weeks ago. We haven't been able to confirm the details as to why this happened although it had to do with the business and it upset many to the point that Reigns kicked Enzo off the bus and for a time he was given "Miz treatment" in that he wasn't allowed to dress in the locker room. The line where he talked about his real life being better than his fantasy life was something of a shoot in the sense he's now based in Los Angeles and having a great time in his non-wrestling life. He was also legit not happy at the breakup of the team, because in reality, it's hard to see what his prospects are on his own given the way he's been portrayed as a guy who is a joke when facing real competition."
Amore, 30, also reportedly brought along "questionable guests" into the locker room, according to Sports Illustrated.  According to SI, the visitors "broke locker room etiquette" by filming and taking pictures of the wrestlers, which many WWE superstars reportedly thought Amore should have known better than to allow.
Amore, who now lives in Los Angeles, has ventured into the music business, which according to SI, could create another conflict with WWE and land him on the list of future-endeavored talent. While in most cases WWE tends to keep backstage matters private, the incident was only exacerbated when Corey Graves and John Bradshaw Layfield discussed his behavior during the WWE Network-produced Bring It To The Table program, which blurs the lines of kayfabe and reality.
The show is scripted and subjects are approved by WWE Chairman Vince McMahon and Executive Vice President of Television Production Kevin Dunn, which means company brass approved the bashing of Amore on the show prior to its airing.
In recent weeks, WWE has allowed Amore the opportunity to "sink or swim" during solo promos, which has received a positive reaction from the audience. However, with each passing week, there seems to be more negative press following the New Jersey native, including a social media vent session from a Buffalo stripper who criticized the way the wrestler allegedly carried himself at her Gentlemen's Club.
According to SI, the incident left many of the Raw locker room disappointed in Amore and believe it was embarrassing to himself and tarnished their brand.
Still, Amore's mic skills have helped him become one of WWE's most popular on-screen characters. Hopefully he can salvage his backstage reputation if the rumors facing him are true and continue his wrestling career.