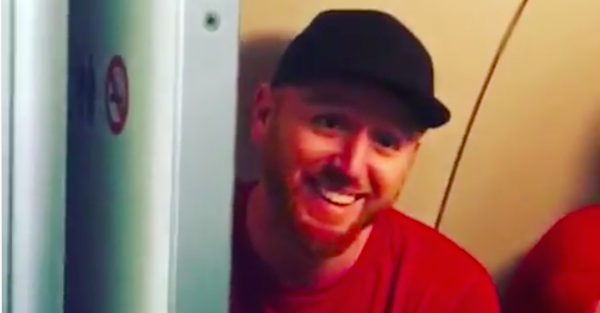 @heathslater_xxii/Instagram
@heathslater_xxii/Instagram
WWE superstar Heath Slater had one of the worst possible experiences in all of airline travel.
During a Dec. 31 flight to Miami, Fla., for Monday Night RAW, the former tag-team champion apparently got himself locked in an airplane bathroom.
Slater shared the incident on his Instagram account in a video that seems to be recorded by fellow former "Social Outcasts" member Curtis Axel, who can be overheard joking with flight attendants as they attempt to help the wrestler.
?Don?t let him out. He?s a vicious animal,? Axel said as a flight attendant attempted to unlatch the door?s hinges.
After several minutes, the crew was able to open the door, finding Slater leaning on the sink and shaking his head in the small compartment space.
WARNING: The video contains some inappropriate language.
?I locked it and then I went to unlock it and the knob came off and I?m like, ?Oh you gotta be kidding me,?? Slater explained in the video.
While he didn't appear to be claustrophobic, Slater did mention that the small bathroom was "getting so hot" while he waited to be rescued.
One night later, he was defeated by Braun Strowman during a New Year's Day match.