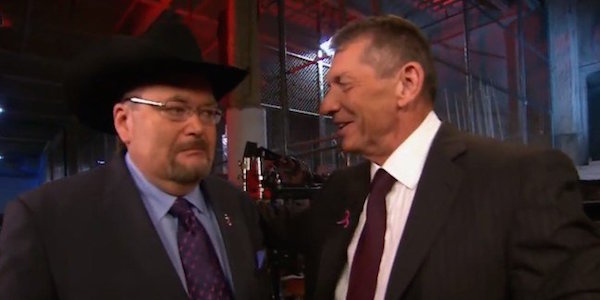 @ApkKizofeb/Twitter
ApkKizofeb/Twitter
WWE Hall of Famer Jim Ross has always had an interesting relationship with Vince McMahon.
Ross, regarded by many as the greatest play-by-play commentator in professional wrestling history, has been fired and re-hired by WWE multiple times, which has led many to speculate what the actual relationship was like between the two.
However, in his new book, "Slobberknocker: My Life in Wrestling," Ross shares a letter from McMahon that helped him get through his second battle with Bell's Palsy and depression, which he discussed in a recent interview with Sports Illustrated.
"There is a letter in the book from Vince that he wrote to me when I was sick with Bell's Palsy for a second time. I didn't know it at the time, but I was battling depression. I didn't want to come out of the house. Vince told me how badly he wanted me to come back to work, and he wrote, "Get the f— back up!" That might seem abrasive to some, but I knew he was being real and coming straight from the heart. Vince's letter was a handwritten one that he had somebody from the office deliver to my door, and he let me know exactly how much I meant to him.
Vince was so great at the "Mr. McMahon" character that some people think he wouldn't want to help people in real life, and that's just not true."
As JR mentioned, some might see McMahon's "Get the f— back up!" line as abrasive, but it obviously spoke volumes to him, especially through the more personal handwritten letter.
Perhaps their relationship is much stronger than most assume.