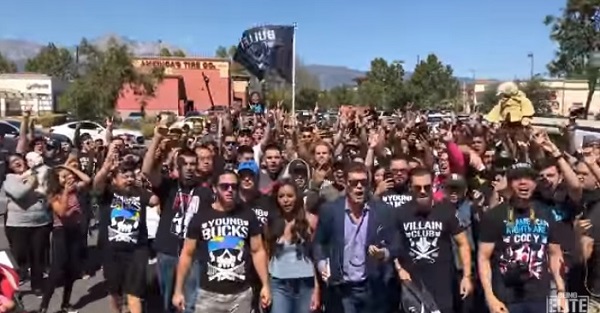 Being the Elite/YouTube
Apparently it hasn't been a great few weeks to work in WWE.
Amid reports that former cruiserweight and NXT champion Neville has walked out of the company, Pro Wrestling Sheet and the Wrestling Observer are also reporting that key WWE writer Jimmy Jacobs has been fired after a controversial photo he posted to Instagram.
The photo in question shows Jacobs with his friends from the Bullet Club, who were parodying the classic DX invasion of WCW at that week's RAW show. The Bullet Club — featuring members Cody and Brandi Rhodes, the Young Bucks, and Hangman Page — showed up outside RAW, and gained the attention on many of their own fans that were attending the show in Ontario, California.
The invasion also featured the Bullet Club asking several of the WWE attendees why they were attending the show, and made jokes about WWE needing to hand out free tickets in order to boost the show's attendance.
The Bullet Club was later sent a cease-and-desist by WWE after the invasion, and it looks like WWE wasn't thrilled with Jacobs associating himself with the Bullet Club on that specific day.
The Bullet Club has become one of WWE's top rivals in the wrestling world in recent years, as they have become one of the top merchandise sellers in the business despite being on the outside of WWE. It's not difficult to see why WWE would have growing frustrations with the Bullet Club, either, as their T-shirts have been growing more and more in numbers at WWE events over the past two years.
Several current WWE stars have been involved with the Bullet Club in the past, with the most notable being former WWE Champion A.J. Styles. Styles, as the then leader of the Bullet Club, was one of the headliners for New Japan Pro Wrestling for their Wrestle Kingdom shows in 2015 and 2016. Those shows both did over 25,000 in attendance, with the 2015 show clocking in at 36,000.
This is part of what makes Jacobs' firing so significant. Jacobs worked with the Bullet Club and other current WWE talents in the past when he was Ring of Honor, and he is considered to be a friend to top stars with the company like Chris Jericho and Kevin Owens.