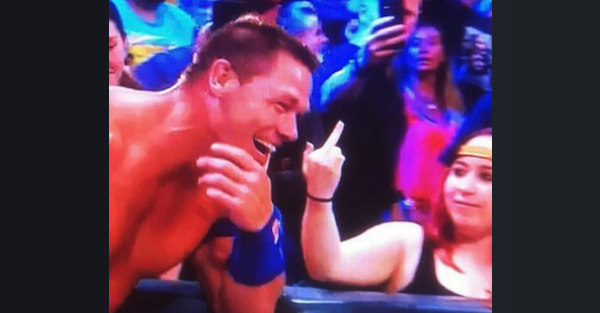 @JohnCena/Twitter
John Cena ruined Baron Corbin's night Tuesday evening, helping Jinder Mahal hold off the Money in the Bank cash-in to reclaim the title.
Afterwards, Cena escaped to the side of the ring, laughing about the failed attempt as a fan gave him the middle finger. He responded Wednesday morning on Twitter:
It didn't take long for a disgruntled Corbin to respond back:
If you missed the cash-in attempt, here's the backstory.
SmackDown Live's main event on Tuesday was a non-title match between Cena and Mahal, but the match ended as Money in the Bank holder Baron Corbin attempted to cash in for a shot at Mahal's WWE Championship.
Things didn't go as planned for Corbin, as Mahal scored a rollup right at the start of the match to retain the WWE title.
Cena and Corbin were already planned to face off at Summerslam, but now the stakes are raised for their match as it appears Corbin has lost his Money in the Bank contract unless the decision is somehow reversed.
What an awful way to lose a title opportunity.