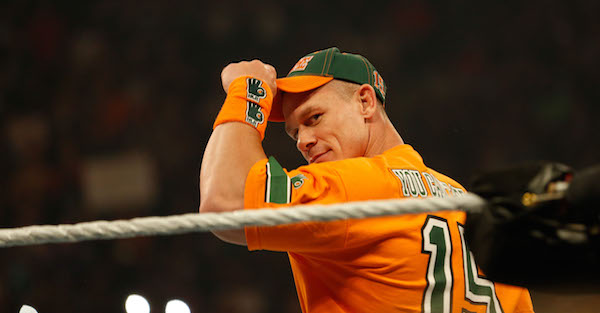 JP Yim/Getty Images
NEW YORK, NY - AUGUST 23: John Cena enters the ring at the WWE SummerSlam 2015 at Barclays Center of Brooklyn on August 23, 2015 in New York City. (Photo by JP Yim/Getty Images)
Seven years ago, the Nexus was the hottest angle in WWE.
The group of upstart rookies wreaked havoc on WWE's roster leading up to a big tag-team elimination match against John Cena, Bret Hart, Chris Jericho, Edge, John Morrison, R-Truth and Daniel Bryan, who debuted with the group and was released prior to making a surprise return at SummerSlam 2010.
To that point, Nexus had been booked extremely well, having run through many of WWE's top superstars. But that all changed after Cena eliminated Justin Gabriel and Nexus leader Wade Barrett despite a 2-on-1 disadvantage to capture the victory for Team WWE.
Wade Barrett speaks out
Barrett, who was released by WWE in May 2015, reflected on the company's decision to have Cena defeat the group during a Q&A session with Inside the Ropes.
"We were told a week beforehand by one of the agents, I can't remember who, 'yeah you guys are going to be winning, we're just figuring out all the details,'" Barrett said. "A week later we turned up at SummerSlam and it's at L.A. at the Staples Center. Huge arena and we get there and we get down to the ring and Edge and Chris Jericho who are part of the team we're fighting against, they're already down at the ring. We come down there, we're in our suits and we're looking all smart and being good boys still and just go over and say, 'hey guys, we're just trying to figure out how to make you guys look like stars today.' We kind of chuckle about it and go off to catering and go get some food.
"We come back down later on and we're pulled to one side and Arn Anderson says, 'hey guys, here's the finish. It's going to be you eliminating him, he's going to eliminate this guy, this guy's going to eliminate this one so it's kind of like a dominoes are falling and then we get down to the final three which is myself and Justin Gabriel on the Nexus side against John Cena and then we're told 'okay, Cena's going to beat you both and go over,' at which point I kind of thought he was joking just to get a reaction. I realized, 'no, he's not serious, John's going over.' So we bring up, 'why is John going over? We really need to win this match.' Arn puts up his hand and says, 'nothing to do with me, you've got to go speak with Vince [McMahon] about this.'"
Barrett said he and his Nexus teammates eventually tracked down McMahon, who told them Cena, the babyface, needed to go over because SummerSlam had to have a "happy ending." Barrett claimed that he was being lied to by his former boss and that the decision to have Cena beat multiple members of the super group was a "terrible idea."
"I don't think you'll find anybody at any level of wrestling that says, 'yeah that was the right decision,'" Barrett said. "But that's what it was and there was nothing we could do about it. The decision had been made, how they got to that decision, I don't know. But Vince looked me in the eye and told me that was the reason. I don't believe it but there we go."
Nexus' original group (minus Bryan) of Barrett, Gabriel, David Otunga, Michael Tarver, Heath Slater, Darren Young and Skip Sheffield — who was eventually repackaged as "Ryback" — remained intact before splitting up several months later.
Of that group, only Slater and Young are still active wrestlers signed to WWE's roster, while Otunga contributes as a commentator. The rest have since parted ways with the company.
It's hard to argue against Barrett's claim that the SummerSlam booking decision ultimately ruined the group's momentum looking back several years later.