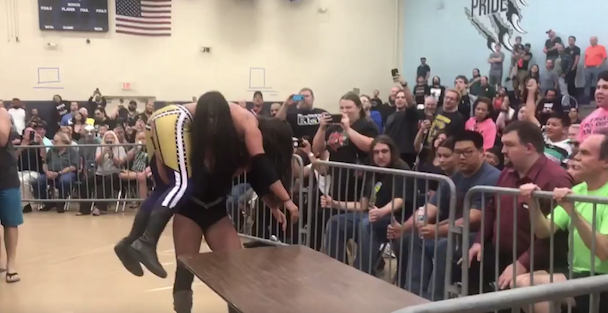 @Joshua7520/Twitter
Former WWE standout Kaitlyn, now going by hear real name Celeste Bonin, returned to the ring with a bit of a hardcore style attached to her in-ring approach over the weekend.
Most likely remember her as the one-time Divas Champion. Bonin, who was retired since 2014, appears to be a much different wrestler now that she has returned to the famed squared-circle.
Bonin faced Rachael Ellering at a CCW show in Coral Springs Florida. The match ended with Bonin hitting a spear on Ellering.
The WWE still owns the rights to the name Kaitlyn. It is why Bonin appeared in the event under her real name and not with the persona that is easier to recognize.
In 2010, following her signing of a developmental deal, Bonin was a member of NXT's (the reality show, not the wrestling promotion) third-season, all-female cast.
It is not yet known if this is a full comeback by Bonin or if it was simply a one-off bout. If it is the former, it will be interesting to see how she does in the independent circuit.
In her time away from the pro wrestling business, Bonin has been a model, spokesperson and dabbled in the clothing line industry.