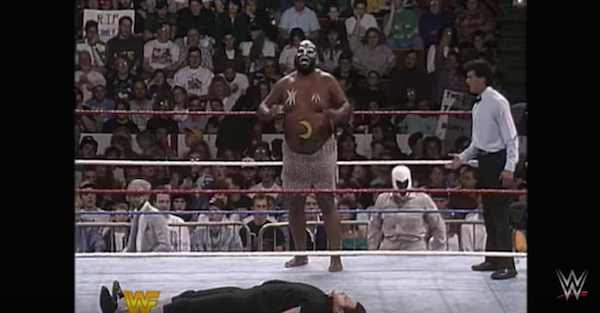 WWE YouTube screenshot
WWE legend Kamala is currently on life support after undergoing emergency surgery, per Pro Wrestling Sheet.
According to Kamala's stepdaughter, they didn't think he would make it out of surgery, but is on life support and is now "showing signs of improvement."
Kamala, 67, last wrestled in 2010. He had his first match in 1980 and wrestled in WWE on and off from 1992 until 2006.
Kamala's health battles have been well-documented, as the "Ugandan Giant" recently had both of his legs amputated after a long bout with diabetes, per Bleacher Report.
The 6'7″, 380-pound wrestler wore paint on his face and chest and a loincloth during his wrestling days.