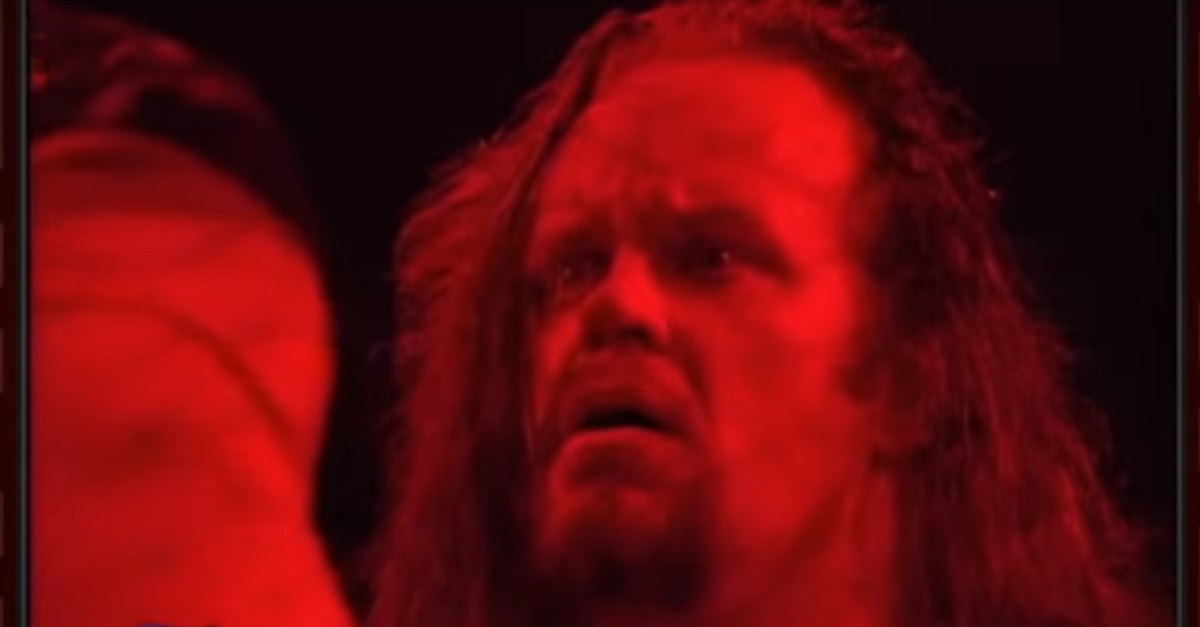 WWE/YouTube
The first Hell in a Cell match ever took place at the Badd Blood pay-per-view on Oct. 5, 1997, and the match will go down in history as the home to one of the greatest debuts in WWE history.
The match between Shawn Michaels and the Undertaker was heavily centered around keeping DX from interfering (hence the cage) but another major storyline was Paul Bearer revealing to the Undertaker that Kane — Undertaker's storyline brother thought to be dead — was in fact alive, and coming for the Dead Man.
That led to Kane finally debuting at the end of the match, as Vince McMahon famously exclaimed on commentary, "That's gotta… that's gotta be Kane!!"
Kane would famously rip the door off the Hell in a Cell, and hit the Undertaker with a tombstone in order to help give Michaels the win. Michaels would go on to win the WWF Championship at Survivor Series — yes, THAT Survivor Series — and would eventually face the Undertaker again at Royal Rumble.
Kane interfered in that match, too, which eventually led to the first match between the two at WrestleMania XIV. The Undertaker would finally get his revenge by winning that match, which at the time was his seventh consecutive victory at WrestleMania.
Kane — real name Glenn Jacobs — would go on to have one of the most enduring careers in recent pro wrestling. Kane is a one-time WWF Championship, one-time World Heavyweight Champion, one-time ECW Championship (WWE), and a nine-time WWE tag team champion.
And it all started 20 years ago today….
…
No, we don't need to talk about Isaac Yankem… or Fake Diesel.
FanBuzz, your source for the latest WWE news.