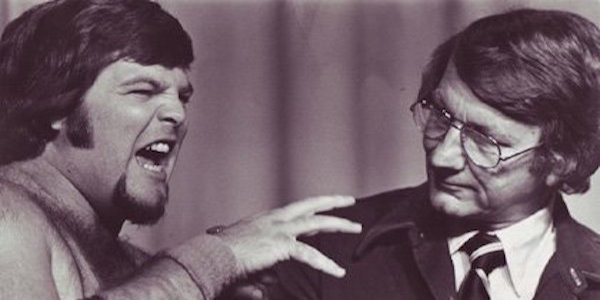 @OldWrestlingPic/Twitter
OldWrestlingPic/Twitter
Lance Russell, the legendary longtime commentator for the former Memphis wrestling territory Continental Wrestling Association, has passed away, according to WWE Hall of Famer and fellow Memphis wrestling legend Jerry "The King" Lawler. He was 91.
Russell, who was visiting his ailing daughter, Valerie, in Memphis, fell and broke his hip on the same day as her death four days ago.
"It's like losing my father again," Lawler told the Memphis Commercial Appeal.
Russell served as a commentator in the Memphis region from 1959 to 1997, most notably in NWA Mid-America and its descendant, Continental Wrestling Association, which was the top territory in the Mid-South.
He was best known for his relaxed announcing style, which varied from the screaming and shouting by many other wrestling commentators and spent more than two decades on-air alongside Dave Brown, who was a college student and disc jockey when the duo formed in 1967.
Russell also worked for WCW from 1989-92, debuting alongside Jim Ross on NWA World Wide Wrestling in March 1989. He returned to Memphis Wrestling in 1992, while also working as an announcer for Smoky Mountain Wrestling in East Tennessee toward the end of its existence.
Russell also enjoyed a long career in the television industry in the West Tennessee area, which included working mostly as a programming executive for WDXI in Jackson, as well as WHBQ and WMC in Memphis.
Prior to his passing, Russell had been living in Florida and made appearances at wrestling conventions. He was married for 76 years to his wife Audrey until her passing in 2014.