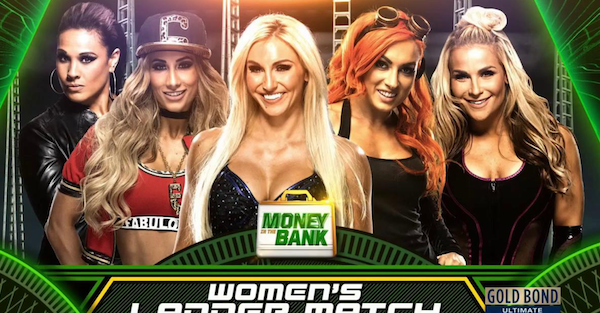 @WWE/Twitter
@WWE/Twitter
To kick off the Smackdown Live-exclusive PPV, Money in the Bank, the historic Women's Money in the Bank ladder match kicked started things off with Carmella, Tamina, Charlotte Flair, Natalya and Becky Lynch.
The winner, of course, would be guaranteed a Smackdown Live Women's title shot anytime in the next year.
The heels dominated early in this match — headlined by Tamina and Natalya — but Charlotte and Lynch held their own as the most-over wrestlers in the match — especially Lynch, who the crowd was firmly behind.
Charlotte stole the show with her spots, but the crowd was firmly behind Lynch, with "Becky" chants erupting whenever the latter came close to retrieving the briefcase.
Ultimately, James Ellsworth stole the MITB briefcase after knocking over Lynch to help out Carmella become the first ever Women's Money in the Bank ladder match winner.
This match exceeded expectations with all five participants giving it their all in a thrilling opener.