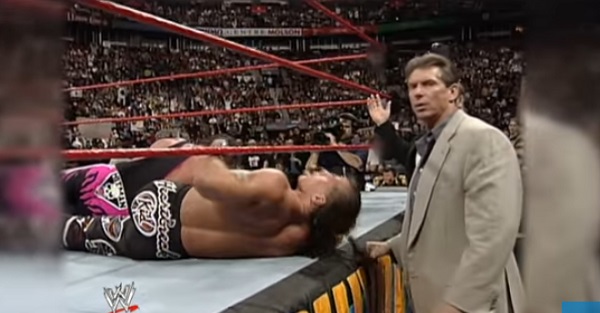 YouTube/DIRECTV
There are a couple of major events that changed the pro-wrestling landscape in the 1990s. Vince McMahon's steroids trial and Hulk Hogan turning heel to form the New World Order in WCW stick out, but it is possible that none of those events compare to the risk McMahon took 20 years ago on Nov. 9.
What happened on Nov. 9, 1997? A historic and controversial pro-wrestling event that has since been known as the "Montreal Screwjob".
The short-version of the story is this: the then-WWF was facing cash-flow problems at the time, and McMahon had visions of making his company publicly-traded. Longtime performer Bret Hart then became a financial target, as the 20-year contract he had signed the previous summer was something the company was looking to get out of.
The result? McMahon was willing to allow Hart out of his contract and to sign with rival WCW, however, McMahon needed one thing in return: Hart need to drop the WWF title belt, which he was holding at the time. McMahon wanted Hart to lose the title to Shawn Michaels, but Hart had no intention of doing so thanks to previous personal problems he and Michaels had before.
On top of that? Hart, a Canadian, doubled-down by not wanting to lose the belt to Michaels in Canada, which would be the scene of the 1997 Survivor Series pay-per-view.
RELATED: Remember that time Stone Cold hit Donald Trump with a stunner?
McMahon had other ideas, though, as he needed to get the belt off of Hart before the superstar fled down south to WCW. In what has since become one of the controversial and most talked about angles in pro-wrestling history, McMahon arranged for Hart to lose the WWF title to Michaels in Montreal without Hart's prior knowledge. The idea is that Michaels would lock in Hart's own Sharpshooter submission, and that instead of letting up on the hold, the ref would call for the bell and signal Michaels as the winner of the belt.
As you can imagine, this didn't sit well with Hart, who felt betrayed by the affair. The Wrestling Observer reported that Hart punched out McMahon backatage, and that the entire locker room threatened to revolt over the incident.
While the event is seen as kicking off the "Attitude Era" that eventually vaulted McMahon and the WWF to extreme monetary success, it was a giant risk to be taken at the time. Pro-wrestling does require a certain level of trust between promoter and talent, and if it isn't there… that talent will go elsewhere.
However, instead of a massive failure, it is now regarded as one of the key moments in pro-wrestling history, and one that almost every wrestling fan has a different opinion on.