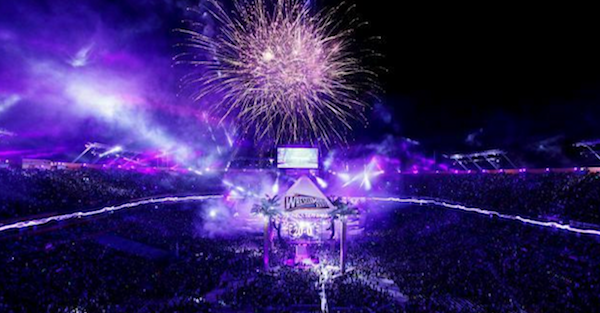 WrestleMania WWE Facebook
WWE's John Cena is already rumored to have some pretty big WrestleMania 34 plans. But if Nikki Bella has it her way, he may be pulling double duty in New Orleans next year.
During a Q&A, a user asked if Bella would get married to Cena on Smackdown Live. Her response gave just the slightest indication she may be considering tying the knot in front of the millions (and millions) watching at home: (H/T Cageside Seats)
"As of now, no, but in WWE you never know what is going to happen. If I was to get married in front of the WWE Universe I think I might aim for WrestleMania. New Orleans might be a cool wedding. I guess we'll see."
Let's just hope it doesn't turn out like some of WWE's other famous weddings.
Both Nikki Bella and Cena took time off from WWE after WrestleMania 33's big win over the Miz and Maryse. Cena has since returned, but there's no return date as of now for Nikki Bella.
Nikki Bella is a former two-time Diva's champion. Cena is a former 13-time WWE champion, three-time World Heavyweight champion, four-time tag champ and five-time United States champion.