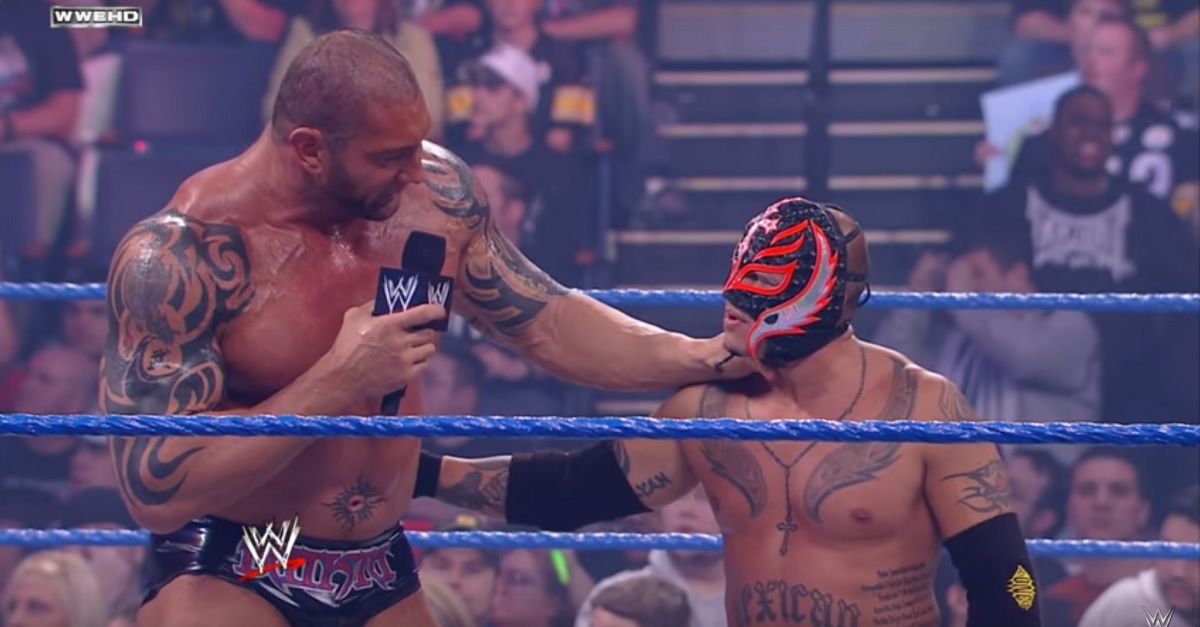 YouTube/WWE
Rey Mysterio made a shocking return to WWE at the Royal Rumble, where he entered the men's Rumble match as the No. 27 entrant.
However, Mysterio's long-term future with WWE has remained well… a mystery. The famous luchador has not been on WWE television since, as he has instead been fulfilling several obligations with other wrestling promotions.
Dave Meltzer of the Wrestling Observer was able to shed some light on Mysterio's future, saying in the most recent edition of his newsletter (subscription required) that Mysterio might not return to the company until 2019. Meltzer also mentions that if Mysterio does return, it would likely be on a part-time basis similar to how Chris Jericho has worked with the company over the past several years.
There is also the chance that Mysterio doesn't return to WWE in a consistent capacity. Mysterio is making good money working limited dates wherever he wants right now, and if WWE doesn't deliver the right spot or amount of money to him, it might make sense for him to simply pass on a return altogether.
At 43, Mysterio has slowed down, but he is still capable of great matches and has been kept healthy by the less demanding independent schedule. He looked to be in fantastic shape in his Royal Rumble appearance, which is significant with the knee injuries that the 25-year veteran has dealt with in the past.
Between WCW and WWE, Mysterio is one of the most decorated "cruiserweight" wrestlers off all time. Mysterio is a three-time WWE world champion, a two-time Intercontinental Champion, five-time tag team champion, and eight-time cruiserweight champion. Mysterio is also one of the few remaining active wrestlers to have worked for the original ECW, WCW, and WWE.