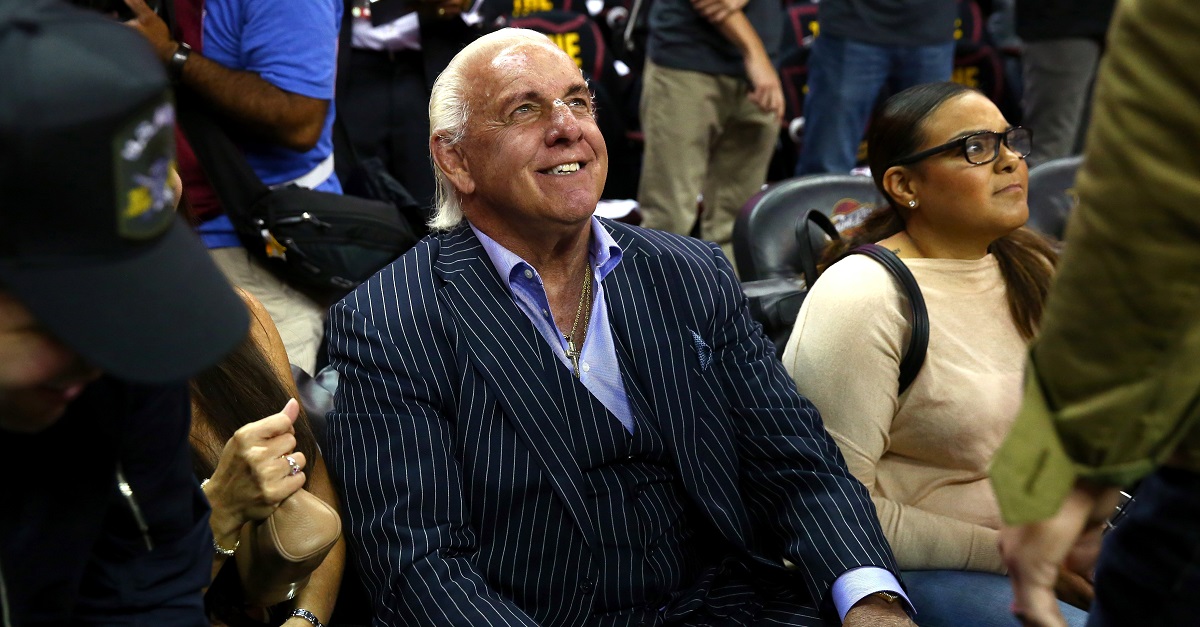 Ronald Martinez/Getty Images
CLEVELAND, OH - JUNE 07: Former wrestler Ric Flair attends Game 3 of the 2017 NBA Finals between the Golden State Warriors and the Cleveland Cavaliers at Quicken Loans Arena on June 7, 2017 in Cleveland, Ohio. NOTE TO USER: User expressly acknowledges and agrees that, by downloading and or using this photograph, User is consenting to the terms and conditions of the Getty Images License Agreement. (Photo by Ronald Martinez/Getty Images)
Professional wrestling's "Mount Rushmore" has been a widely debated topic of discussion for years.
Well, apparently WWE Hall of Famer "Nature Boy" Ric Flair has the answer.
Flair tweeted a photo of himself, "Stone Cold" Steve Austin, The Rock and Hulk Hogan photoshopped onto Mount Rushmore on Saturday.
It's hard to argue his selection. Obviously, he wasn't going to overlook his own 16 World Championships and 40-plus year legacy.
Austin and Hogan were WWE's top superstars during its most profitable eras while The Rock — who shared top billing with the Rattlesnake during the Attitude Era — is inarguably the most successful professional wrestler in history having parlayed an acting career into becoming Hollywood's higest paid actor.
The four superstars combine for 44 world championships and several of professional wrestling's most historic moments.
Flair continues to be active through his social media accounts after recovering from life-threatening surgery for undisclosed medical issues in August.
During a recent interview with People magazine, Flair said that he's made positive changes for the better recently and intends to prove it to his fans.
"It's going to be a hard sell overnight to say that 'Hey, Ric Flair has changed," he says. "It's going to take time, it's going to take proof."
One thing's for sure, it's great to see the Nature Boy back in good spirits after a tough summer.