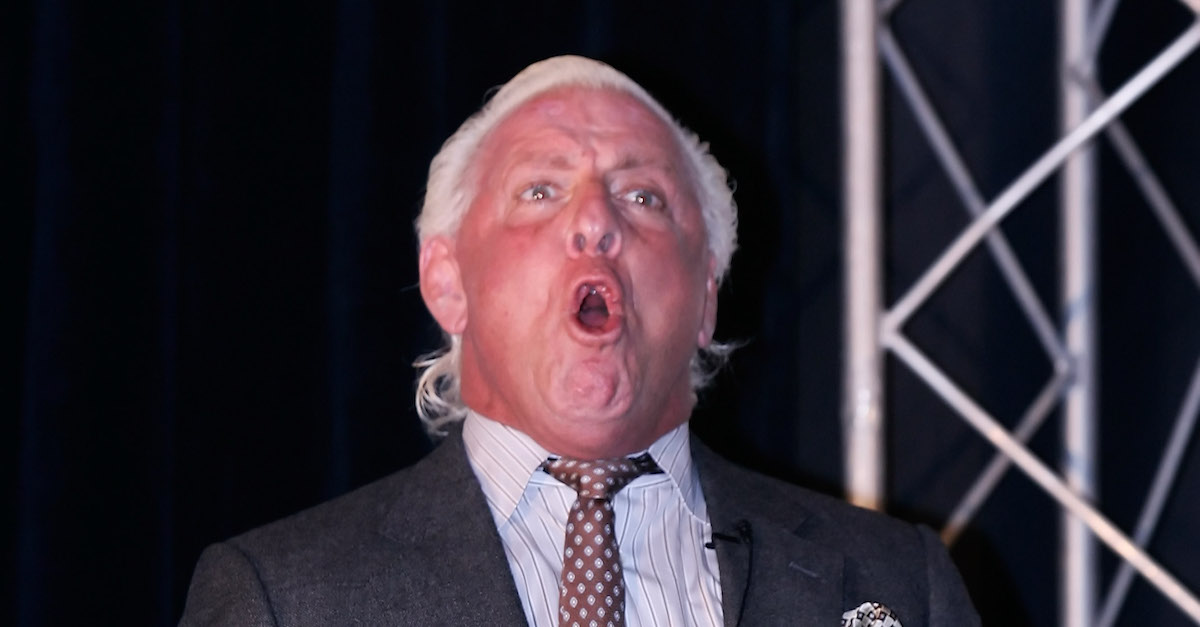 Jason Smith/Getty Images
speaks with the media during the NASCAR Sprint Media Tour hosted by Charlotte Motor Speedway, held at the Embassy Suites, on January 20, 2010 in Concord, North Carolina. Jason Smith/Getty Images
Pro wrestling legend Ric Flair has been in poor health in recent days ever since being admitted to the hospital over the weekend, and now his fiancee, Wendy Barlow, has provided another update on Flair's condition.
Via Fightful.com:
"Just want to give an update to my friends and Family as I have been unable to talk on the phone without crying and just feel shocked over events… I took Ric tot he Hospital Friday night with Severe Abdominal pain. From that moment on it all seems like a nightmare… multiple Organ problems. Not to go into too many details I want everyone to know he still needs Prayers as he is still in Critical Condition. And No he did not have Colon Surgery… It was another Surgery. I don't know how the Media comes up with their stories. I have been by his side since Friday and will continue to make sure his is getting the best care possible. Thanks for all of the support and Love"
Flair's colon surgery was originally reported by "Mean" Gene Okerland and later by Dave Meltzer of the Wrestling Observer. However, it appears that Flair may have had another procedure that still has him in critical condition.
On Tuesday morning, Flair's daughter — WWE superstar Charlotte Flair — provided a minor update via Instagram:
"Hi guys,
On behalf of my family and I, we want to THANK everyone for the prayers, texts, calls and support. Our Dad is a FIGHTER and your continued thoughts and prayers MEAN THE WORLD to us. 🙏🏻💜 We will update everyone when we have more information. 💪🏻😀❤️"
Flair's management company originally tweeted out that he was in the hospital for "routine monitoring," but Pro Wrestling Sheet reported he was taken to ICU after his family checked him in with "heart-related issues."
"Yes, Ric in hospl 4 routine monitoring. No reason 2 panic. Yes, many thx 2 his fiancé & hosp staff. No excuses Ric wld want u 2 go out 2nite Natur Boy style!"
Later, they tweeted the following:
"Are u a Fan/Friend of Ric Flair? If so, we need prayers & positive energy 4 our Living Legend as he is dealing w/some tough medical issues"
Condolences and prayers for Flair have since started to pour in from the pro wrestling world, as they are wishing the legend the best in this difficult time.
Flair is one of the most prolific champions in pro wrestling history, having won dozens and dozens of titles across his 40-year career.
We send Flair and his family our prayers and best wishes as he deals with these health issues.