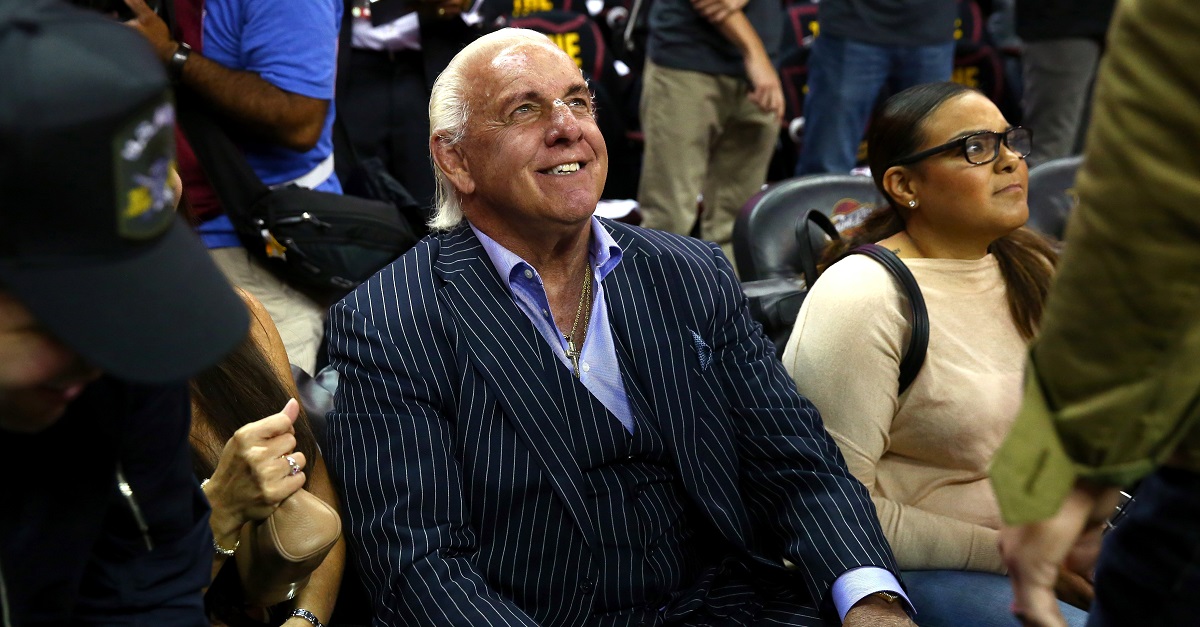 Ronald Martinez/Getty Images
CLEVELAND, OH - JUNE 07: Former wrestler Ric Flair attends Game 3 of the 2017 NBA Finals between the Golden State Warriors and the Cleveland Cavaliers at Quicken Loans Arena on June 7, 2017 in Cleveland, Ohio. NOTE TO USER: User expressly acknowledges and agrees that, by downloading and or using this photograph, User is consenting to the terms and conditions of the Getty Images License Agreement. (Photo by Ronald Martinez/Getty Images)
During an appearance on Baltimore's 98 Rock Morning Show, WWE Hall of Famer "Nature Boy" Ric Flair provided his list of the current WWE superstars he believes would make up the modern day version of  "Four Horsemen" stable.
Flair picked Dolph Ziggler, Seth Rollins, Roman Reigns and former Evolution running mate Randy Orton, who he said was "still the best wrestler in wrestling."
"The first guy I would take is Dolph Ziggler. The second guy would be Seth Rollins. The third guy would be, let me think, for Horsemen that requires a lot. You have to be good at what you do. You have to be able to enjoy life. Let me think. God I haven't had too much fun with him, but I'm sure he'd be great Roman Reigns. Roman is a trooper. I got to be careful with what I say because God forbid anyone have any fun anymore. (laughs) Oh God, he would run from me but Randy Orton for sure. But he is so married now and so laid back and having a good time. Make no mistake Randy Orton right now is still the best wrestler in wrestling."
Pretty hard to argue with Flair's picks considering each of the four is a multi-time World Champion and arguably four of the best workers in professional wrestling today– yes, even Roman, smarks.
Perhaps the absence of AJ Styles is due to the questionable "Nature Boy" apprentice gimmick he did with Flair in TNA several years ago. But I digress.
The 16-time champion clearly still has a keen eye for talent.