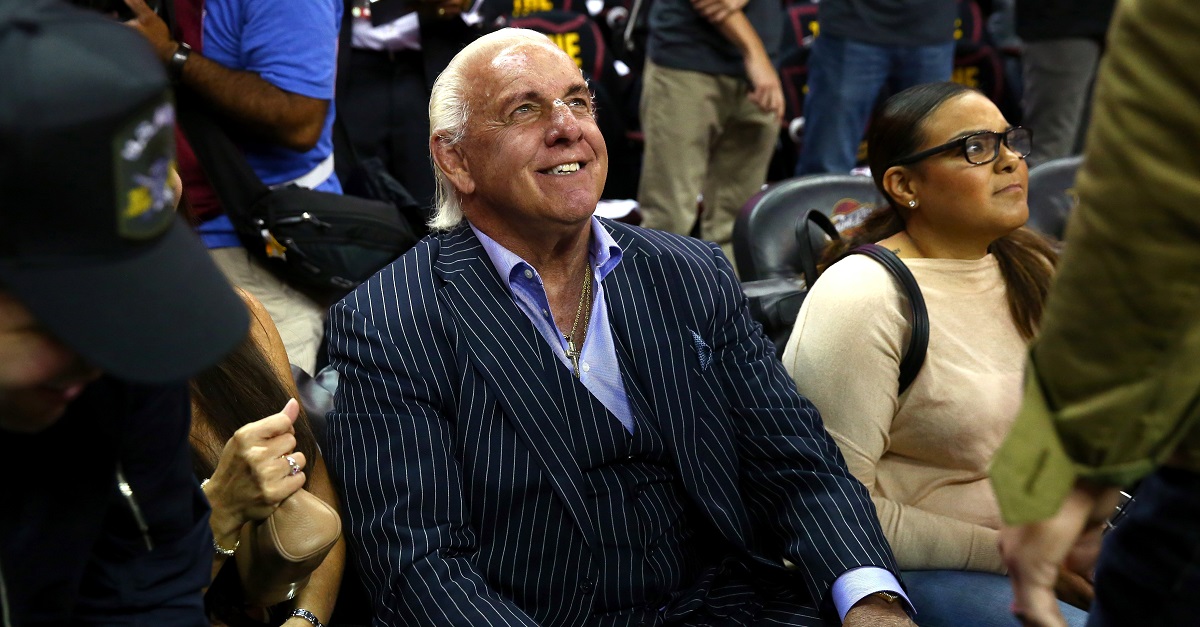 Ronald Martinez/Getty Images
CLEVELAND, OH - JUNE 07: Former wrestler Ric Flair attends Game 3 of the 2017 NBA Finals between the Golden State Warriors and the Cleveland Cavaliers at Quicken Loans Arena on June 7, 2017 in Cleveland, Ohio. NOTE TO USER: User expressly acknowledges and agrees that, by downloading and or using this photograph, User is consenting to the terms and conditions of the Getty Images License Agreement. (Photo by Ronald Martinez/Getty Images)
WWE Hall of Famer "Nature Boy" Ric Flair named his top three current workers in the wrestling industry during an appearance on Busted Open Radio show on Tuesday.
Flair praised his daughter, former Women's champion Charlotte Flair, during the interview and said she was among Randy Orton and AJ Styles as one of the best overall performers in professional wrestling.
"I can't put it in words. She is 'it,'" Flair said. "To me, and I'll say this to anybody, she's in the top-three workers in the business right now. The only two that I think are better than her, I won't say they're better than her but they have more experience, are (Randy) Orton and (AJ) Styles. Maybe Seth Rollins. But in terms of athletic ability, work ethic, and workouts and her gimmick and everything."
While the 16-time world champion has an obvious bias, there's little argument against his daughter being praised as one of the best current workers in the industry today. After starting from scratch in WWE's developmental program, Charlotte has quickly become one of the most decorate female wrestlers of all-time, having won the RAW Women's championship five times and being the last WWE Divas champion before the title was replaced at WrestleMania 32.
It's also notable that the Nature Boy mentioned Orton, who he worked alongside as a member of Evolution during the third-generation superstar's early run with WWE, as well as Styles, who worked in an on-screen mentorship role with Flair during their time together in Impact Wrestling (formerly Total Nonstop Action).
Orton, of course, has been WWE's top superstar behind John Cena for the past decade, having won 13 world titles during his career. Styles, who was previously one of the most decorate wrestlers outside of WWE, has emerged as the company's top performer on SmackDown Live, winning the WWE championship less than eight months after his debut in 2016.
FanBuzz, your source for WWE news.