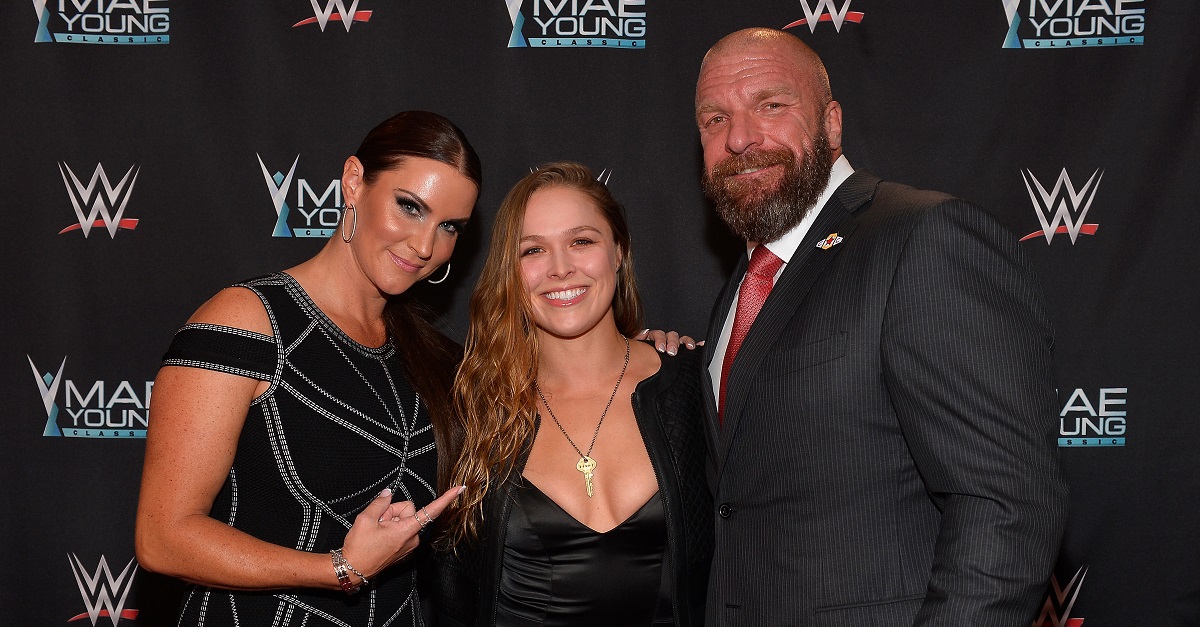 Bryan Steffy/Getty Images for WWE
LAS VEGAS, NV - SEPTEMBER 12: (L-R) WWE Chief Brand Officer Stephanie McMahon, MMA fighter Ronda Rousey and WWE Executive Vice President of Talent, Live Events and Creative Paul "Triple H" Levesque appear on the red carpet of the WWE Mae Young Classic on September 12, 2017 in Las Vegas, Nevada. (Photo by Bryan Steffy/Getty Images for WWE)
Following Asuka winning the first ever Women's Royal Rumble, Ronda Rousey debuted in the WWE.
Nothing happened other than her appearing with Charlotte Flair, Asuka, and Alexis Bliss being in the ring.
For what it is worth, the former UFC champion denied rumors that she?d be participating in Sunday?s women?s Royal Rumble match as she?ll be filming a movie out of the country.
?I?m actually leaving to Colombia right now to finish shooting Mile 22 and I won?t be back until mid-February,? Rousey told TMZ.
The former Women?s bantamweight champion added that she still hasn?t signed a contract with WWE. Obviously, that now appears to be a work.
Earlier this week, Dave Meltzer of the Wrestling Observer Newsletter (per subscription) also reported that Rousey would ?likely? win the first ever female Royal Rumble match if she participated. She didn't win, but certainly made a huge impact.
On Jan. 9, the former MMA champion was captured alongside Paul ?Triple H? Levesque ? WWE?s Executive Vice President of Talent, Live Events and Creative ? for what was presumed to be a business meeting.
The show ended with Rousey shaking Stephanie McMahon's hand and walking off.
What a stunning moment.