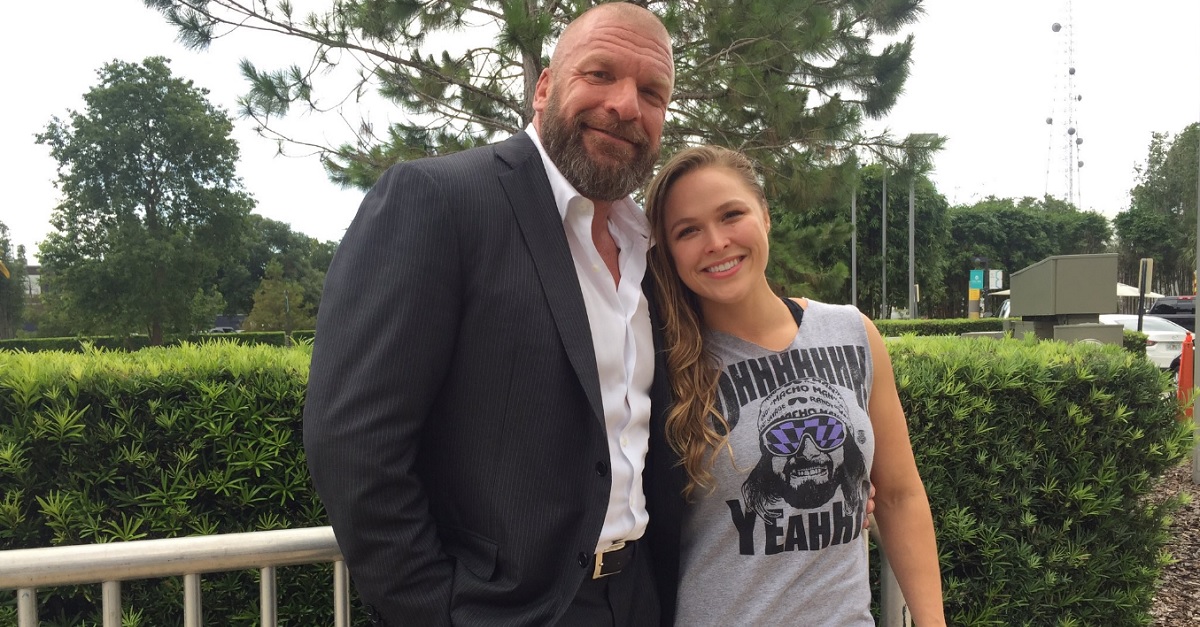 Triple H/Twitter
Triple H/Twitter
During an interview with Sky Sports, WWE COO Paul "Triple H" Levesque confirmed the company's interest in former UFC Bantamweight Champion Ronda Rousey.
?Ronda has made no secret her whole career that she has been a huge fan of WWE growing up. She has been on record saying WWE is probably some of the most fun that she has ever had in her entire career. I have been out there publicly saying that if she wants the opportunity I am happy to give it to her. She is looking for the opportunity so it seems like a perfect match-up. I am excited to have the conversation with her and see where it goes.?
WWE has continued teasing adding Ronda Rousey to its stockpile of talented women?s wrestlers, and that only continued when TMZ caught up with Stephanie McMahon recently.
McMahon said directly to the camera that the ?offer still stands,? and the WWEwould love to have her.
When asked if a matchup between the two is still possible, she said ?anything is possible.?
WWE has also teased a long speculated cross-promotional feud between its Four Horsewomen and the UFC?s Four Horsewomen.
The last time Rousey stepped in a ring, she made quick work of Triple H and McMahon in a segment alongside Dwayne "The Rock" Johnson:
The company posted an exclusive interview with Ronda Rousey, Jessamyn Duke and Marina Shafir at Full Sail University following friend and fellow ?Four Horsewomen? Shayna Baszler?s win over Mia Yim during the second-round of the Mae Young Classic.
In the video, the group is confronted by WWE ?Four Horsewomen? members Bayley, Becky Lynch and Charlotte Flair.
Rousey threw down her bag and told the group to ?name the time and place,? before they retreat.
Last month, footage from the event?s taping showed Rousey, Duke and Shafir sitting in the front row interacting with Bayley, Flair and Lynch after Baszler?s victory, which created speculation that the two groups would eventually work an angle together.
[youtube https://www.youtube.com/watch?v=4pu11JczYic?version=3&rel=1&fs=1&autohide=2&showsearch=0&showinfo=1&iv_load_policy=1&wmode=transparent%5D
Baszler, who was a finalist in the Mae Young Classic has already made a successful transition to the squared circle and began training full-time at the WWE Performance Center last week, according to WWE.com and many believe the other Horsewomen will follow suit.
Last month, an employee backstage in WWE told Fightful.com that Rousey has expressed interest in making a pro wrestling run and spoke with Triple H to set up her appearance at the Mae Young Classic tapings.
According to their sources, WWE has referred Rousey, Duke and Shafir ? the fiancée of current NXT competitor Roderick Strong ? to current 205 Live competitor Brian Kendrick?s wrestling school in Southern California. The company had previously referred former Total Divas star Eva Marie ? who was officially released last summer ? to Kendrick.
WWE Hall of Famer Jim Ross, who called the Mae Young Classic, told TMZ on last month that Rousey?s transition to professional wrestling is ?inevitable?.
?It?s just a matter of time before Ronda Rousey officially signs with Vince McMahon ? so says WWElegend, Jim Ross, who says it?s a ?match made in heaven,? Ross said. ?Oh, she?s gonna be a big star,? the WWE Hall of Famer told us at LAX ? ?It?s inevitable. I see her in a WrestleMania someday. It?s too great an opportunity for her to pass up and WWE to pass up ? it?s a match made in heaven.?
Fanbuzz, your source for the latest WWE news.